The star-studded 'gala of a different sort' benefits the Community PedsCare program
Jacksonville, FL (Oct. 23, 2018) – On Saturday, Oct. 20, just in time for Halloween, Community Hospice & Palliative Care's Halloween Doors & More transformed the Jacksonville Fairgrounds Exhibition Hall into a galaxy far, far away. As an homage to the cinematic classic "Star Wars," this year's theme was "May The Doors Be With You." It was a star-studded event with appearances from Harry Potter, Dorrie, Nemo, Shrek and Darth Vader himself!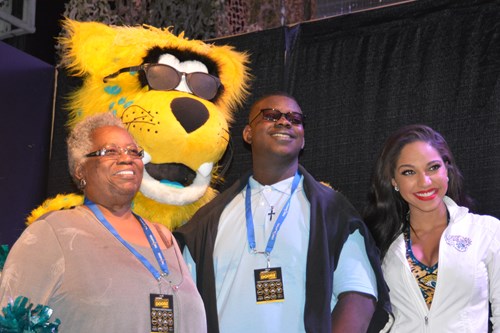 Jaxson de Ville stopped by Halloween Doors & More and brought one of the Roar with him. Two Jags fans give big smiles.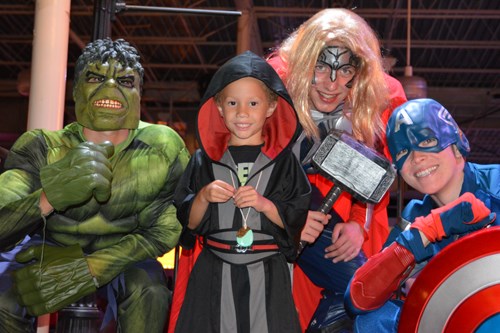 How many Avengers does it take to have a blast a Halloween Doors and More? As many as you can find – Hulk, Thor and Captain America took a little time from world-saving to come to the event.
Superheroes come in many forms: a young surgeon looks over at a partner in crime, Jack-Jack from The Incredibles. Photos: David Luck, Community Hospice & Palliative Care
Northeast Florida's premier Halloween event, Halloween Doors & More, is truly a gala of a different sort where guests saw huge smiles on the faces of children and adults alike. Made possible by the 2018 presenting sponsor, THE PLAYERS Championship, at this year's star-studded event, kids and parents enjoyed a day of magic, fantasy and so much more. Proceeds from Halloween Doors & More benefited Community PedsCare, a program of Community Hospice supporting children living with serious illnesses and their families. About 94 percent of the costs incurred by Community PedsCare are not reimbursed by insurance. For more information about Community PedsCare, please visit https://www.communityhospice.com/services/community-pedscare/.