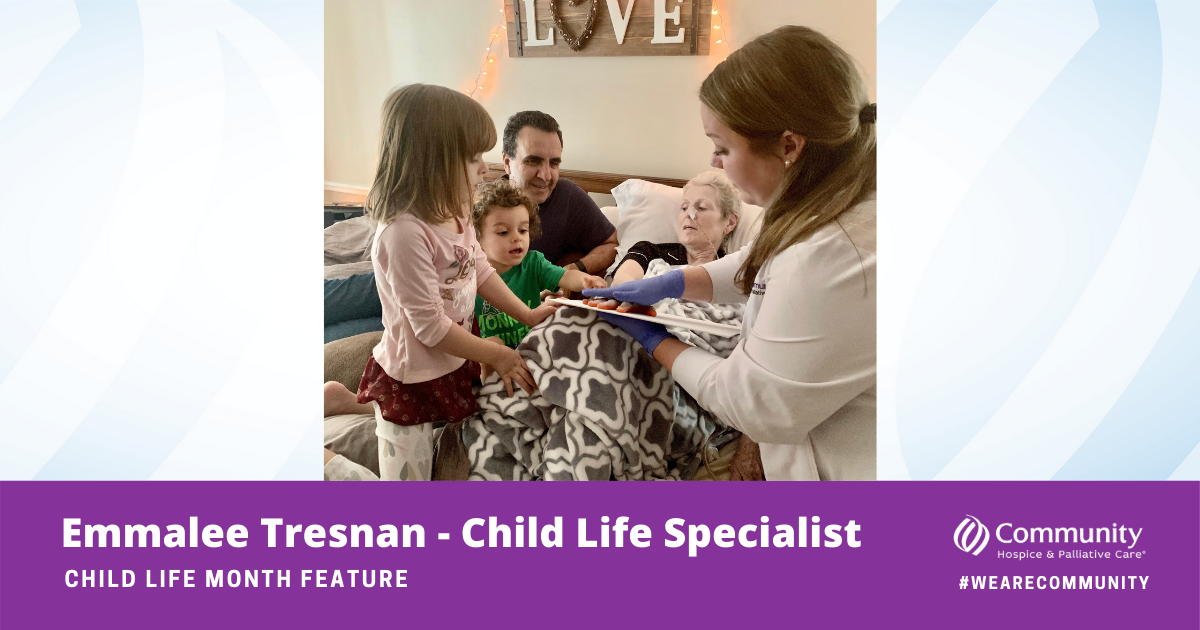 Helping Children and Grandchildren of Dying Patients Grieve and Cope With Loss
Emmalee Tresnan is a Certified Child Life Specialist working on the adult side of hospice care, the only program in Northeast Florida, and one of a few nationwide, with a designated position dedicated to working with the children and grandchildren of adult hospice patients.
Children grieve at all ages and struggle with death just as much as adults. As a Child Life Specialist who works with the adult population, Emmalee is able to help the children of these adults find their voice and express their feelings, cope and grieve.
"I absolutely love my position and could not imagine working outside of this population. It truly is sacred ground to walk with our families and help children understand their complex emotions. It's an honor to provide children with a toolbox of coping skills, help them express their emotions through play, and create forever memories," said Emmalee.
By making memories and keepsakes together, Emmalee helps support grieving families. "Memory making is such a huge part of my role and something I love doing with all my families. These memories often take the shape of keepsakes like handprint canvas, fingerprint cards and hand molds, I find it priceless to give children the autonomy to choose and design these keepsakes to share with their loved ones. These keepsakes are a special way that we can support our families who have loved ones in hospice."
Emmalee is thankful that she can lend support to the families she serves. "I could not be more grateful and thankful that families welcome me into their homes and lives to walk their hospice and grief journeys with them and their children."
We're thankful for Emmalee and all our Child Life Specialist who are Compassionate Guides in end-of-life care in our Community. To learn more about our Child Life Programs, Click Here.