Jacksonville, FL (August 1, 2018) – Few things say summertime better than catching a sun-soaked baseball game with family.
Community Hospice & Palliative Care® took family fun a step further at a recent Jacksonville Jumbo Shrimp game: 12-year-old Jaiden Elliott, a Community PedsCare® patient, showed off a major-league arm when he threw out the first pitch. 
Community PedsCare® brings comfort and care to enhance quality of life for patients from prenatal (before birth) to age 21. The program supports the specialized needs and medical care of the child, their parents and siblings, other family members, caregivers, classmates and teachers.
Jaiden's family has watched with love, awe and unwavering support at how he has defied expectations related to his cystic fibrosis (CF) diagnosis. According to Christan Bennett, Community PedsCare® social worker, Jaiden was the perfect choice as pitcher. "Jaiden is a huge sports person and plays basketball and soccer," she said.
Jaiden's father, Darryl Elliott, agrees. "From five to eleven, Jaiden was very active with Pop Warner football, which I believe was a great benefit to his health," he said. "We were told at birth that he would not be as active as other kids his age. I am glad to say that not only is he very active, but he has also stayed healthy for someone with CF. Jaiden's mother and I knew very little about the disease at the time of his diagnosis. What we knew was only the downside; we did not realize there was so much hope for our son."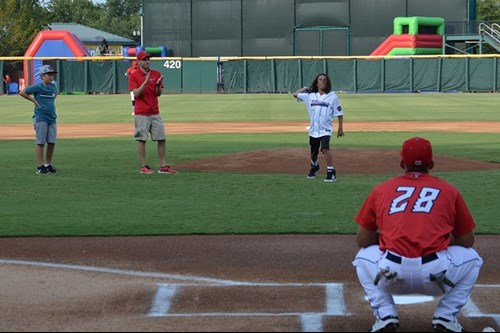 12-year-old Community PedsCare patient Jaiden Elliott showed off a rocket of an arm when he threw out the first pitch at the July 13 Jacksonville Jumbo Shrimp game.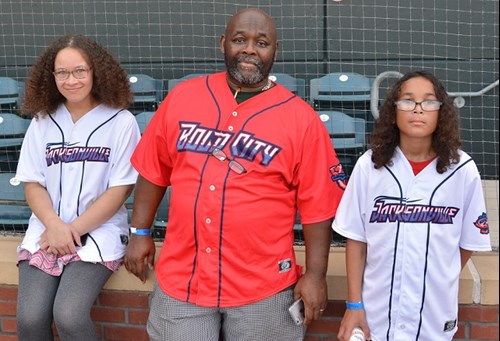 The Elliott family, l-r: Jaiden's sister Jasmine, father Darryl and Jaiden.
New to Community PedsCare®, Jaiden has been hospitalized only twice since his diagnosis, which is unusual for CF patients. Christan credits Jaiden's bond with his older sister Jasmine as integral to his well-being. She said, "Jasmine and Jaiden are very close. She's been a big help in keeping Jaiden healthy and out of the hospital." Another major factor in Jaiden's health has been his discipline with his medication regimen. Family of another kind has been helpful there, says Darryl: "Jaiden owns several pets that keep him vigilant in his responsibility for taking his meds: he has a dog, a cat and a snake."
Along with being a stellar athlete, Darryl is most proud of his son's academic success: Jaiden is an honor student whose disability is not a deterrent in making education a priority. Not only has Community PedsCare® embraced the Elliott family -- so will Camp Healing Powers® next spring: Jaiden and Jasmine lost their mother in November 2017.
Christan said, "The PedsCare team's main focus at this time is on providing the emotional support needed to help the family appropriately grieve the passing of their mother and wife." 
Being pitcher for a day at the Jumbo Shrimp game was a small gift to give Jaiden and his family as they move forward with resilience…and hope. 
"I would like to thank Community Hospice for giving me and my family the chance to attend the Jumbo Shrimp game," Darryl said. "It was a great and exciting experience for all of us. Jaiden was very excited about his opportunity to throw out the first pitch of the baseball game. It was Jaiden's and Jasmine's first time at a minor-league baseball game, which they thoroughly enjoyed."
For more information on our Community PedsCare® program, please visit https://www.communityhospice.com/services/community-pedscare/. Registration is open for Camp Healing Powers® in September. To sign up, visit https://www.communityhospice.com/events/camp-healing-powers-fall-2018/.
#  #  #
About Community Hospice & Palliative Care
Established in 1979, Community Hospice & Palliative Care is an innovative national leader in palliative and hospice care, as well as providing programs and services to meet the diverse needs of the communities it serves. During its 39-year history, Community Hospice & Palliative Care has served nearly 200,000 adults and children in Baker, Clay, Duval, Nassau and St. Johns counties, and recently expanded its service area to include 11 counties in north-central Florida. Through the support of more than 900 employees and 1,000 volunteers, the organization helps approximately 1,600 patients per day to live better with advanced illness – at home, in long-term care and assisted living facilities, in hospitals and at its eight inpatient care centers. The organization is committed to improving the quality of life for patients and their families and to be the compassionate guide for end-of-life care in our communities. No one is ever denied care due to an inability to pay. To learn more about the support and services of Community Hospice & Palliative Care, visit CommunityHospice.com.