Community Hospice & Palliative Care President & CEO Receives Statewide Award
This week, Susan Ponder-Stansel, President and CEO of Community Hospice & Palliative Care received the prestigious statewide 2019 Quality Senior Living Award (QSLA), named after Dr. Carter Osterbind, at the 38th annual Florida Council on Aging's (FCOA) annual conference in Orlando. The QSLA award is given annually to an FCOA member whose actions reflect a high level of personal or organizational commitment on behalf of Florida seniors.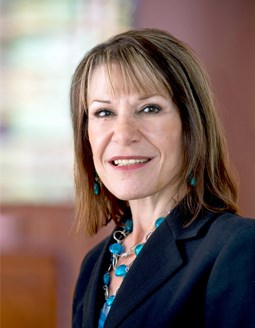 Susan Ponder-Stansel began her career with Community Hospice & Palliative Care as a volunteer clinical social worker in 1985, becoming the non-profit organization's first staff social worker in 1986. She became Executive Director in 1988 and was named President and CEO of Community Hospice of Northeast Florida in April 1991. To this day, Susan continues to be a tireless advocate for the aging and elderly, often engaging at the state and national level.
"It has been my privilege to work with the FCOA on behalf of Florida's older residents," said Susan Ponder-Stansel. "I am especially honored to receive an award named after Dr. Carter Osterbind, whose vision and dedication helped establish FCOA as a statewide organization focused on aging issues. I hope I can honor his legacy by continuing to be an advocate for providing support and care needed to help older adults remain in their own homes and continue to be part of our communities."
Community Hospice & Palliative Care now in its 40th year, just opened its eighth office (Stephen R. Chapman Family Community Campus in St. Augustine, FL), will be opening its ninth center for caring (inpatient unit) at Baptist Medical Center Jacksonville this fall, and is supported by nearly 2,000 staff and volunteers whose mission is to improve the quality of life for patients and families, and to be the Compassionate Guide for end-of-life care for 1,600 patients daily throughout 16 counties. As a result of Susan's leadership, Community Hospice & Palliative Care is the only hospice provider in the Northeast and North Central Florida region, and one of the top 5% of hospice agencies in the U.S., to be awarded the 2019 prestigious distinction of Hospice Honors, a national program that recognizes hospices that provide the highest quality of care from the caregivers' point of view.
Susan joined FCOA in 1989 and currently serves as the past president. She also serves on many other boards, including the Board and Executive Committee of the Florida Hospice & Palliative Care Association, and the Hospice Board of the Washington-based National Association for Home Care & Hospice.
# # #