March is Child Life Month! Every day, the Child Life Specialists with our Community PedsCare program help support patients and families dealing with life-limiting and life-altering illnesses.
We asked our Child Life Specialist, Emmalee Tresnan, to describe what it's like to provide support for children and families in our hospice program and our perinatal program.
Hi, I'm Emmalee Tresnan, a Certified Child Life Specialist with six years of experience working with patients and families.

As a Child Life Specialist, I provide support for children in a variety of different environments through therapeutic play and expression activities. In my new role on the PedsCare team, I support patients and families in our hospice program and our perinatal program. I also am working to build better family experiences through events and projects.

Child Life Specialists work within the Community PedsCare program by providing direct patient care, sibling support, or support to anyone important to the child.

I wanted to share a photo from one of the events Community PedsCare hosts for patients and families in the program. Jags for a Day is an annual event where three Community PedsCare patients are selected to become Jacksonville Jaguar players for a day. They are invited to TIAA Bank Field, sign one-day contracts, receive jerseys with their names and numbers, and attend a game with their families. I joined all three Community PedsCare families at the "Jags for a Day" event this year. I was there to make sure my patients had the best experience possible.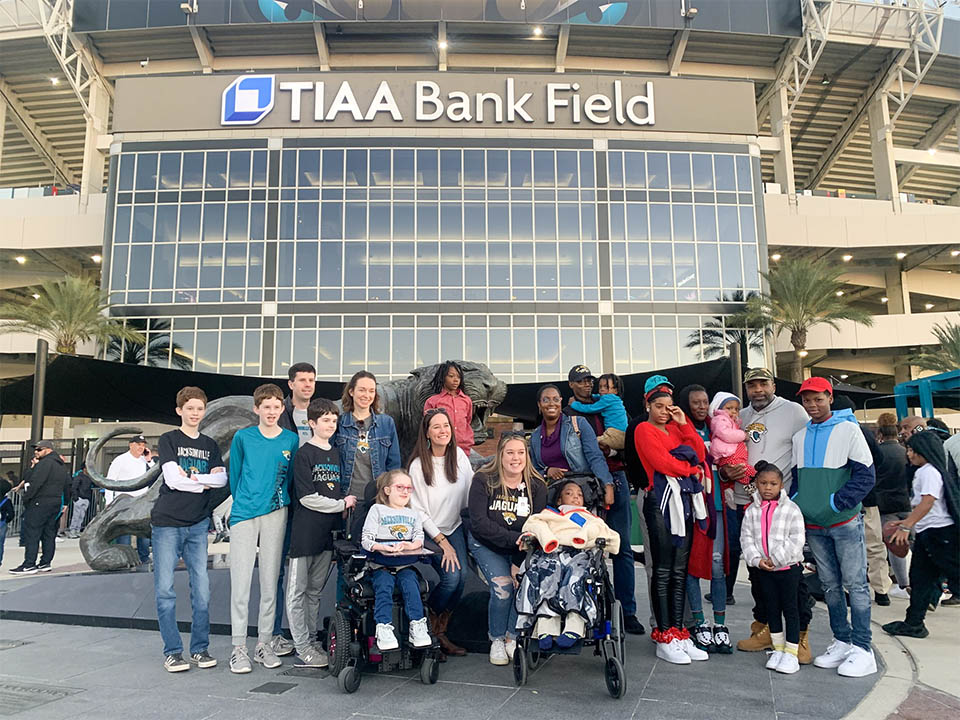 One of my favorite ways to support my patients and their families is through Community PedsCare sponsored events. During these events I get to see how our families are able to fully participate in events regardless of the limitations from their illnesses. It is encouraging to see families become comfortable and feel understood in a group where others are experiencing similar feelings.

At a recent event, I remember watching a parents eyes light up when they saw their child's name displayed on the jumbotron. It was so special to see how impactful our events are for our patients - and to a greater extent to our families and especially for the parents.

I believe it is important to support children and families limiting with life-limiting and life-threatening illnesses because children deserve to be children regardless of any diagnosis they may have. Children have the right to play and express themselves; they have the right to know they're strong enough to do whatever they want and can accomplish anything!

As Child Life Specialists, we work to help children feel that they have the power to be who they want to be and feel how they want to feel no matter what.