Wheelchair Warrior Graduates from the Palliative Level of Care At Community PedsCare
Jacksonville, FL (Dec. 12, 2019) – On Wednesday, Dec. 4, Tristan Sprouse graduated from the palliative level of care at Community PedsCare, the pediatric program of Community Hospice & Palliative Care. The 21-year-old has aged out of the program and is currently making the transition into adult healthcare services. The independent young man is very appreciative of his family and the Community PedsCare team, who have been supportive throughout many hospitalizations and trials that come with having a chronic medical condition.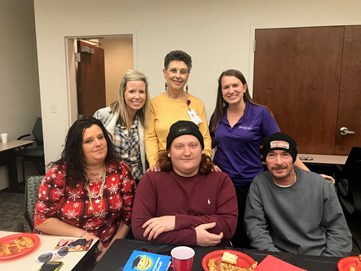 "Tristan has a great attitude and is living life to the fullest," said Valerie Davis, a pediatric social worker for Community PedsCare. "Our team is so very proud of him."
Known as the Wheelchair Warrior, Tristan enjoys heavy metal music and crowd surfing in his wheelchair at concerts. He has a passion for art and looks forward to becoming a tattoo artist in the future.
For more information about Community PedsCare, please visit www.CommunityPedsCare.com.
#  #  #