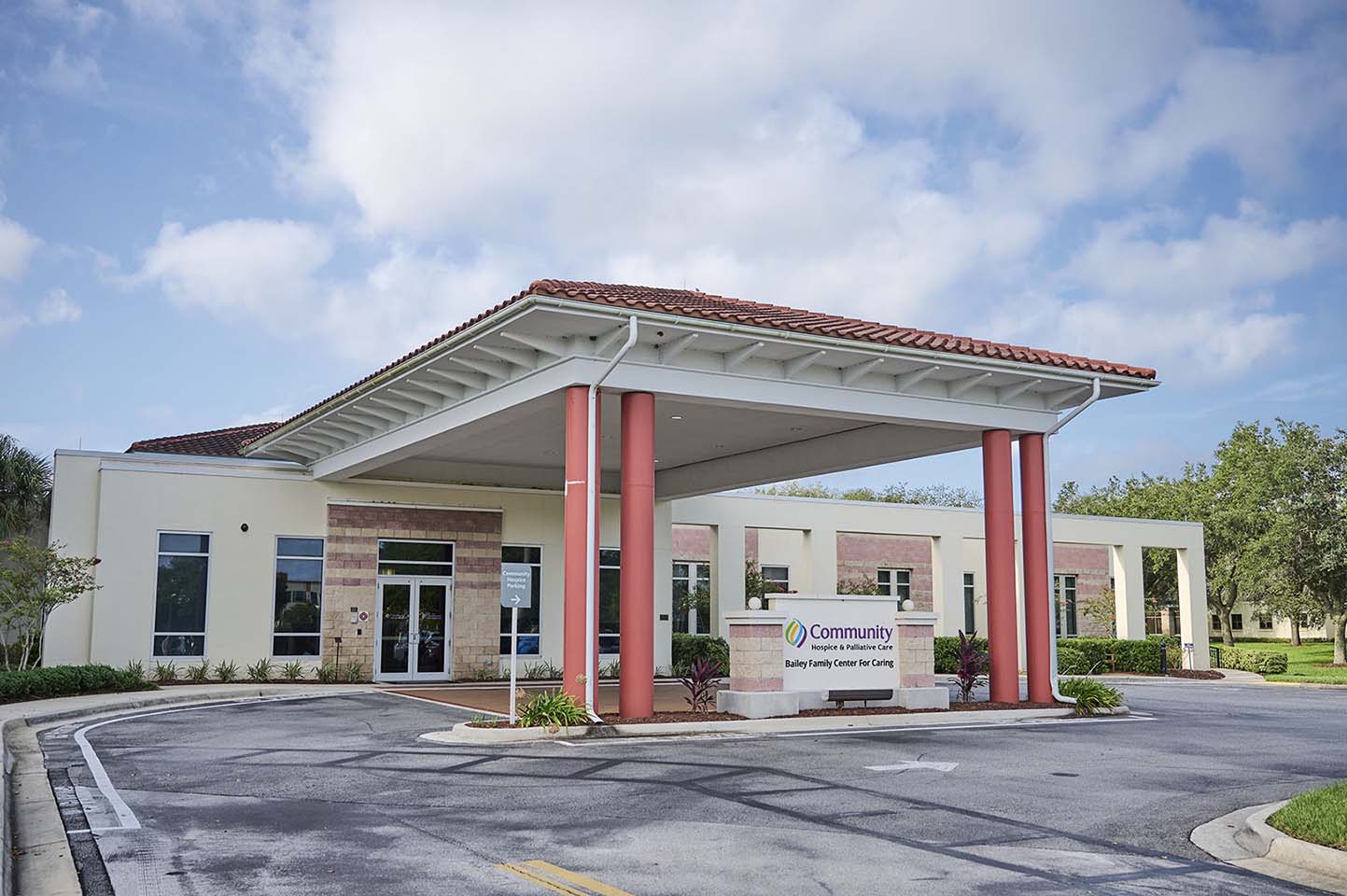 Pictured above: Bailey Family Center for Caring at Flagler Hospital
Inpatient Centers for Caring
During a patient's end-of-life care journey, there might be times when their pain or symptoms become too difficult to manage and stabilize at home. That's why Community Hospice & Palliative Care offers 10 inpatient Centers for Caring throughout Jacksonville and St. Augustine to serve patients in immediate need.
What to Expect When Visiting an inpatient Center for Caring
When your loved one arrives at any one of our Centers for Caring, our team gets to work treating their pain or symptoms and develops a care plan that focuses on getting the patient stabilized and home as quickly as possible.
Often, patients return home once their pain and symptoms are controlled or optimally managed. If a patient needs to remain at the inpatient Center for Caring after the hospice team determines that their symptoms are optimally managed, the team will assist in transitioning patients to a routine home level of care.
Who Pays for inpatient Centers for Caring services?
When a patient is placed in one of our Centers for Caring, the cost is usually covered by Medicare, Medicaid or private insurance. Some private insurances may charge a co-pay for inpatient care. If a patient remains at the inpatient level of care, insurance normally doesn't charge for room and board.
Open 24 Hours a Day, Seven Days a Week
Our Community Hospice & Palliative Care inpatient Centers for Caring are staffed 24 hours a day, seven days a week by our dedicated hospice care teams. Our Centers for Caring include private patient rooms in a home-like setting where family, friends, and loved ones are encouraged to visit day or night. Most of our Centers for Caring are equipped with a kitchen, laundry facility, and non-denominational chapel.
Where are they located?
Community Hospice & Palliative Care Inpatient Care Center Locations:
Earl B. Hadlow Center for Caring 4266 Sunbeam Road, Jacksonville, Florida 32257 (Mandarin)
George and Margaret Morris Center for Caring 
555 West 8th Street, Sixth Floor at Shands Pavilion, Jacksonville, Florida 32209 (UF Health Jacksonville campus)
Dr. Gaston J. Acosta-Rua Center for Caring 
5450 Ramona Boulevard, Jacksonville, Florida 32205 (Westside)
Anne and Donald McGraw Center for Caring 
4715 Worrall Way, Jacksonville, Florida 32224 (Mayo Clinic Florida campus)
Bailey Family Center for Caring 
200 Health Park Boulevard, St. Augustine, Florida 32086 (Flagler Hospital campus)
Community Hospice & Palliative Care Center for Caring at Ascension St. Vincent's Riverside 
1 Shircliff Way, Fourth Floor, Jacksonville, Florida 32204
Jane and Bill Warner Center for Caring
1348 South 18th Street, Medical Office Building B, Fernandina Beach, Florida 32034 (Baptist Medical Center Nassau campus)
Community Hospice & Palliative Care Center for Caring at Ascension St. Vincent's Southside
4201 Belfort Road, Fifth Floor, Jacksonville, Florida 32216
Community Hospice Center for Caring at Baptist Medical Center South
14550 Old St. Augustine Road Interstate 95 Exit 335, 7th Floor Jacksonville, FL 32258
Alice and T. O'Neal Douglas Center for Caring - Baptist Medical Center Jacksonville
800 Prudential Drive, 5th Floor Jacksonville, FL 32207
Want to learn more about Hospice Care? Call us at (866) 253-6681 or fill out our contact form here.