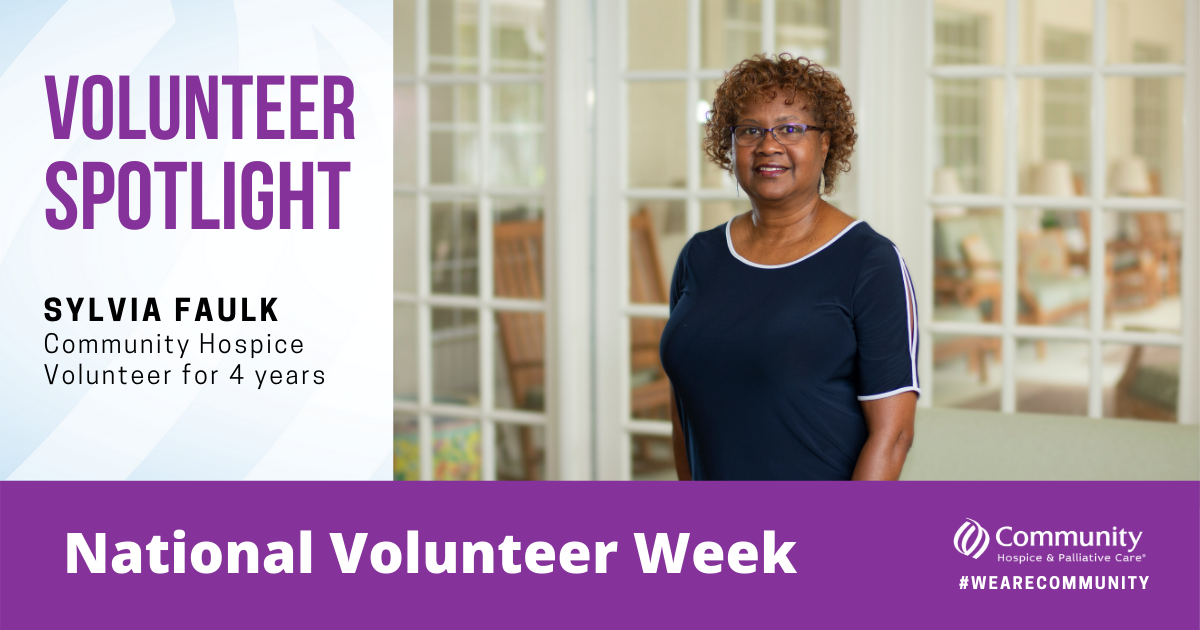 Since our inception in 1979, Community Hospice & Palliative Care has counted on the selfless commitment of caring volunteers to join us in helping provide our patients with compassionate, end-of-life care.


For National Volunteer Appreciation Week, we're showcasing a few of the hundreds of amazing volunteers who make Community Hospice & Palliative Care a leader in hospice care.
Sylvia Faulk has been volunteering with Community Hospice & Palliative Care since 2017. She believes that volunteering is important regardless of the way people decide to donate their time, skills, and knowledge because it helps others for the greater good – which is a priceless act.
When Sylvia's mother was receiving end-of-life care at Community Hospice & Palliative Care, it was the compassionate care her entire family received that motivated her to give back by volunteering. "What motivated me to join Community Hospice & Palliative Care was the care given to my mom when she was dying."
Sylvia describes the moment she arrived at her mother's house after work, "Speaking with the hospice person, she noted my mom's labored breathing. While I stayed at her bedside and stroked her forehead, I told her how much I loved her and how I was going to be okay. I told her that she could go when she was ready, that it was okay. A little later, my son and I began to open a brain teaser game I had brought with me, we then noticed her breathing had stopped."
Respectfully, the nurse asked Sylvia if it was okay for her to care for her mother, but while she did so, she also helped Sylvia with her own needs. "As she continued the necessities of her job, she was caring for me as well, asking me if I was going to be alright and reassuring me that my brother would arrive soon." To Sylvia, it was this nurse's compassion during her mother's passing that left a lasting impact on her life.
Many years later, after Sylvia's husband passed in hospice care, Sylvia received the opportunity to join the volunteer team at Community Hospice & Palliative Care, where she has been serving for the last four years. "Volunteering with hospice hasn't changed me, it has expanded my knowledge and mindset concerning others in the area and processes concerning death, and those living after their loved ones are gone."
Sylvia believes in the rewards of volunteering, and she values serving others more than monetary gain. "What keeps me volunteering is that the rewards are so great – they exceed monetary value. Knowing that the giving of your time, skills, talents, and being present for another person, positively impacts members of our community in need is priceless."
One of Sylvia's most treasured volunteering experiences happened while she was visiting a hospice patient. "One of the patients I'd been visiting for a while was quite a lively lady! She would talk of her younger days, meeting and marrying her husband, their family, travels, and adventures. We both looked forward to our visits and we became like extended family. She became sick and was moved to another facility and I'd visit her new room. One day, in particular, she was sleeping so as I was leaving, a lady in a wheelchair asked if I could help her. What she ended up needing was some attention. We talked and I asked her if I could sing her a song and she said, "Yes." After singing, she told me she also wanted to sing. She used to sing in her church choir. At first, her voice was a little frail, but as we sang the hymn together, her voice strengthened and others joined in – it was beautiful! Such an unexpected delight."
Finally, Sylvia offers those looking to volunteer some helpful encouragement. "What I would say to those unsure about volunteering is that you are already well equipped. When you consistently show up, are present, care for others, follow the guidelines to be your best, willingly, that's all you need. The rewards are immeasurable for you and those you serve in our communities. We invite you to join the world of volunteering.
We thank Sylvia and all our wonderful volunteers for partnering with us to provide our patients and families with compassionate hospice care. To learn more about volunteering, please visit our volunteer page