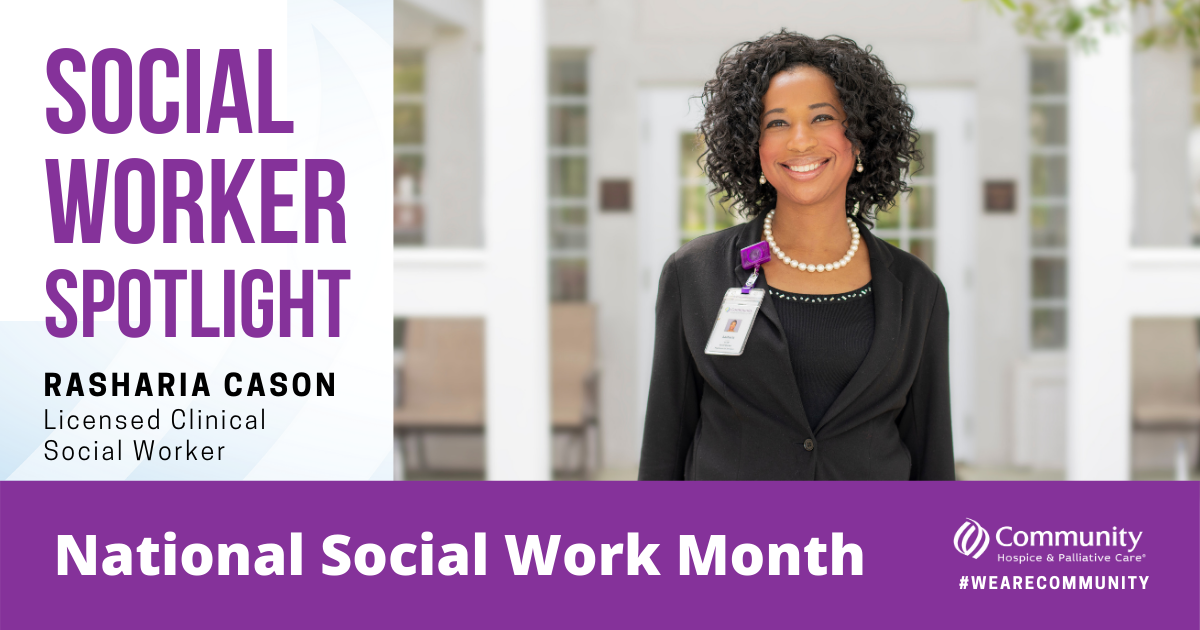 For National Social Work Month, Community Hospice & Palliative Care is proud to showcase our social workers and highlight their integral role in end-of-life care.
Rasharia Cason is a Licensed Clinical Social Worker with Community Hospice & Palliative Care. She currently works from the St. Vincent Southside Center for Caring, but began her work at the George and Margaret Mortis Center for Caring eight years ago.
Rasharia believes social workers are a fundamental part of a larger interdisciplinary team. Using their specialized knowledge and skills in establishing rapport and building relationships, social workers can determine effective methods of communication for patients and families including care planning. Trained in advance care planning, counseling services and psychoeducation, social workers collaborate with patients and families in solving problems and maintaining a solution-focused mindset by exploring identified needs and advocating to obtain necessary resources.
"What I love about being a social worker, specifically a hospice social worker, is helping patients and families plan. Whether that planning involves an introduction of advanced directives, final arrangement planning, transfer planning or general resource planning, I enjoy having the resources and knowledge to help."
Rasharia believes that advocacy and education are the keys to empowering patients into fulfilling their goals. "In my experience, what I love most about my job is advocating for patients and education. When new patients begin our program, or even when current patients need help understanding, it is our ongoing collaboration in assessments, care planning and education which empower patients and promotes their self-determination in their identified goals."
Rasharia believes Community Hospice & Palliative Care has given her the resources to excel at her work. "Our company has an emphasis on teamwork and continuing education for the end goal that we excel in patient-centered care."