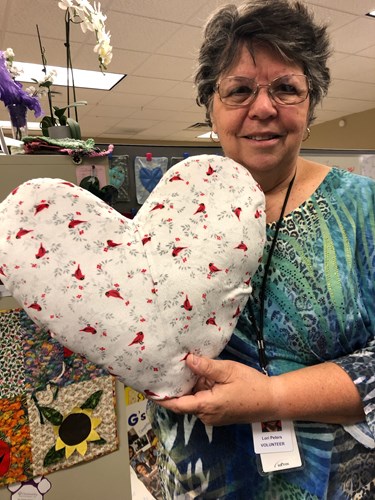 June 16, 2022 (Jacksonville, Fla.) – Community Hospice & Palliative Care's "Forever in our Hearts" Memory Pillow program reached its first anniversary this June with over 100 pillow requests from family members.
Memory Pillows are special keepsakes created by volunteers that are made from an article of clothing owned by a patient. This complimentary pillow is a one-of-a-kind treasure and a loving memento. It is also a wonderful condolence gift to offer families bereavement and emotional support. The program is comprised of 13 sewing volunteers and 2 liaison volunteers who speak directly with the families and help take orders.   
The volunteer team consistently receives heartwarming feedback from recipients. One caregiver shared, "It is so thoughtful of your group to do something like this. I miss my husband so badly. We were together for 26 years and this pillow will be greatly treasured. Thank you from my heart and God bless you all." In addition to the many kind comments from family members, the volunteers equally share the same sentiment and are thankful to be a part of the meaningful opportunity.
"The Memory Pillow program was initiated a year ago this month. Betsy Miller, volunteer coordinator, has done a phenomenal job of organizing sewing volunteers and creating a program structure to process the requests from families for a pillow," said Dan Batty, volunteer manager. "We greatly appreciate the effectiveness with which Betsy has been able to accomplish so much in just the first year of this program. This program is a testimony to turning every critical touchpoint into an intentional encounter to create meaningful experiences and memorable moments for the families of our patients."
If you are interested in becoming a Community Hospice & Palliative Care volunteer, please visit Volunteer.CommunityHospice.com for more information.
About Community Hospice & Palliative Care
Established in 1979, Community Hospice & Palliative Care is an innovative national leader in palliative and hospice care, as well as providing programs and services to meet the diverse needs of the communities it serves. During its 42-year history, through the support of more than 1,000 employees and 1,000 volunteers, the organization helps approximately 1,600 patients per day to live better with advanced illness – at home, in long-term care and assisted living facilities, in hospitals and at its 10 inpatient care centers. No one is ever denied care due to an inability to pay. To learn more about the support and services of Community Hospice & Palliative Care, visit CommunityHospice.com