Palatka mom fighting terminal cancer has a lot to celebrate this Mother's Day
Cancer is an ugly word and a horrible disease. For 32-year-old Allanious Fuqua, cancer is all of the above and more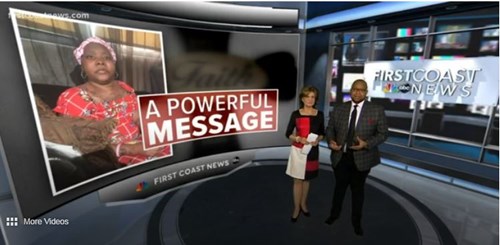 By: Kenneth Amar, Reporter, First Coast News
JACKSONVILLE, Fla. — Cancer is an ugly word and a horrible disease. For 32-year-old Allanious Fuqua, Cancer is all of the above and more.
"I don't pay it no attention I just go with the flow," she said.
February 2019 she was diagnosed with breast cancer and the prognosis was dim.
"They told me I was at my end, " said Fuqua.
The Palatka mother of five was devastated with the news but decided to fight back and not lose hope.
Fuqua was first diagnosed in 2012, she had a double mastectomy, underwent treatment and her cancer went into remission.
But in 2017, the cancer returned and apparently was undetected for a while.
"It came back in my femur bone, my liver, my lung, my membrane, my spine," she said.
Even so, the single soft-spoken mom is a picture of strength in the face of adversity; she said she is standing on her faith. 
"I can't give up. I've got five babies. I can't give up," said Fuqua.
The Putnam County native attended a local high school but did not finish. To show her children the importance of an education, she decided to go back and earn her GED.
"I want my kids to see you can make it," she said. "Don't give up on anything."
In February, Community Hospice & Palliative Care teamed up with St. Johns River State College to recognize for her persistence in trying to get her GED.
She was having difficulty attending classes because of the cancer and the doctors thought she would not make it past February.
They held a ceremony, she spoke at the event and was given the school's Visionary Award.
She said the hardest part of her journey is watching her children and thinking about their future.
"I don't want to leave them, I don't want to leave them," said Fuqua. "That's the hardest part. Yes, I want them to know I am fighting for them."
Fuqua may not celebrate Mother's Day next year, nor the year after that but said this one is special.
Her message this Mother's Day is very simple
"Go get yourself check before it is too late," she said.
The Palatka community, moved by her strength and hope, on Friday, May 10 held an event at Abundant Life Ministries Church to recognize her as a champion in her battle.
It was called  "A Mother's Love."
Fuqua said she is taking her fight one day at a time and making plans with other family members to provide for her children when her journey comes to an end.