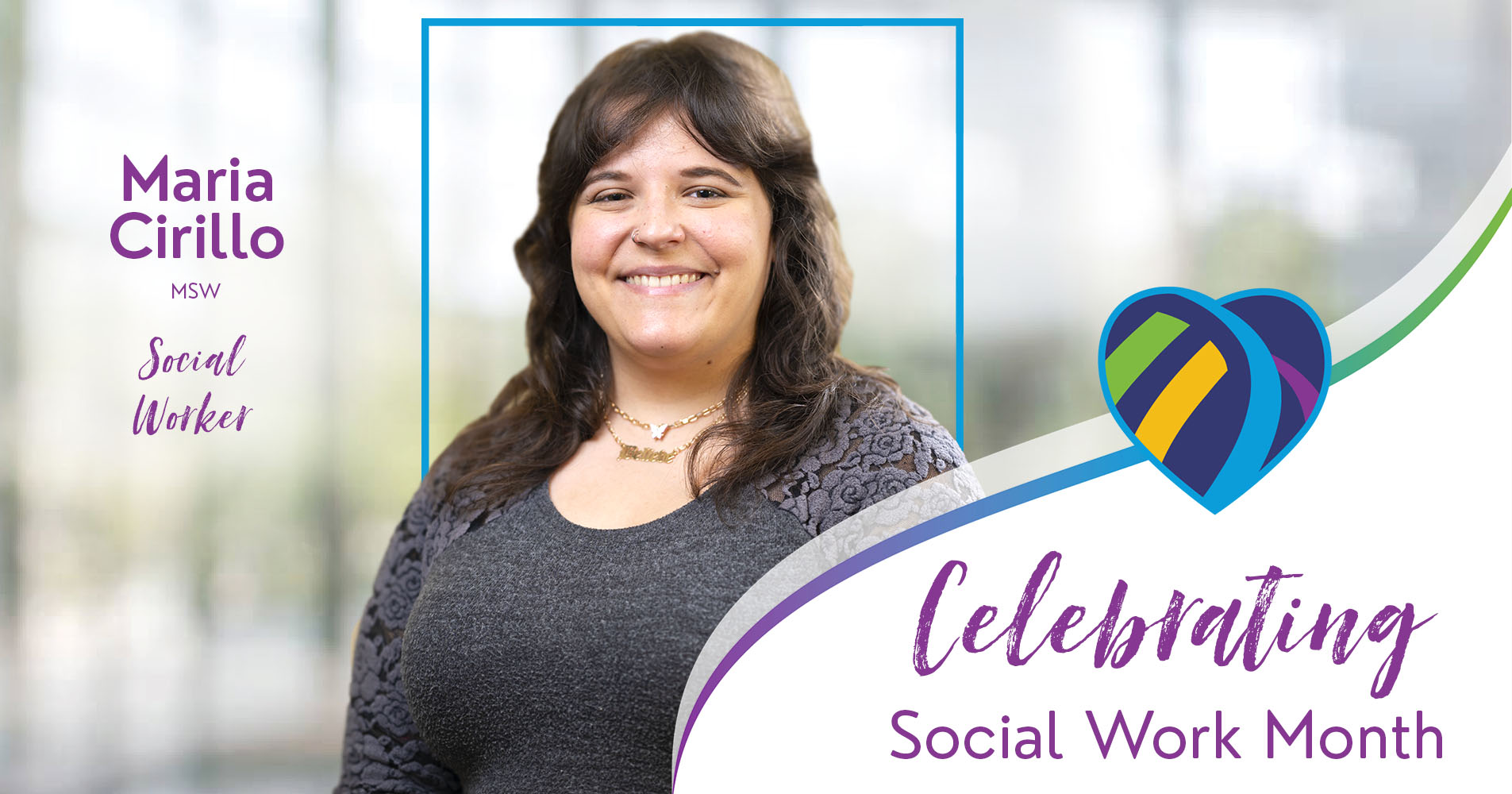 During National Social Work Month, we are highlighting the incredible work our dedicated social workers provide in caring for patients and their families at end-of-life.


We asked Maria Cirillo, MSW, to share her story and motivation in working as a social worker in hospice care.
My name is Maria Cirillo. I am a master's level social worker, and I am currently in the process of obtaining my license. I have been at Community Hospice since January 2022, and I am the social worker for the Earl B. Hadlow Center for Caring. Before joining Community Hospice, I worked in mental health.
My primary responsibility in patient care is providing emotional support and resources to patients and their loved ones. This can look different with each patient and each day, but a few examples of my role include assisting with Advance Directives or helping families in planning for a move back home or to a long-term care facility or facilitating conversations to make memories.
Social workers are a vital part of the interdisciplinary team and ensure that the patient is seen as a whole person rather than just a disease or set of symptoms. Our team is full of compassionate, amazing professionals who don't need this reminder but we social workers also assist when there may be complex dynamics within a family or mental health stressors also affecting the patient's care.
One thing I enjoy about my job is how each day is different and that I can be a support to patients and families in such a vulnerable time of life. I also love working with my team, who are the best!
When helping patients at end-of-life, it's important to ask them and their families what their goals are and what they want their care to look like at end of life. By having an open conversation, we can address needs as they arise and hopefully, proactively address issues before they come up. We can also work together to find creative ways to help patients live their last days to the fullest.
As a new hire, I have felt so welcomed and supported at Community Hospice. My supervisors, all the social workers I shadowed during training, and each member of the team I've met has been so helpful and answered all my many questions! I also recently went through a loss in my own life and received so much love and support from all my coworkers here at Community Hospice.
Community Hospice makes sure we are thoroughly trained and have all the paperwork we need to help serve patients and families but most importantly have built such a great network of colleagues. My coworkers are truly the most important resource of all and none of us could do this work alone.

Thank you, Maria, for the support you provide our patients and families, our interdisciplinary team, and our community!
Melissa Caves, LCSW, ACHP-SW Constance Thrope, MSW
---