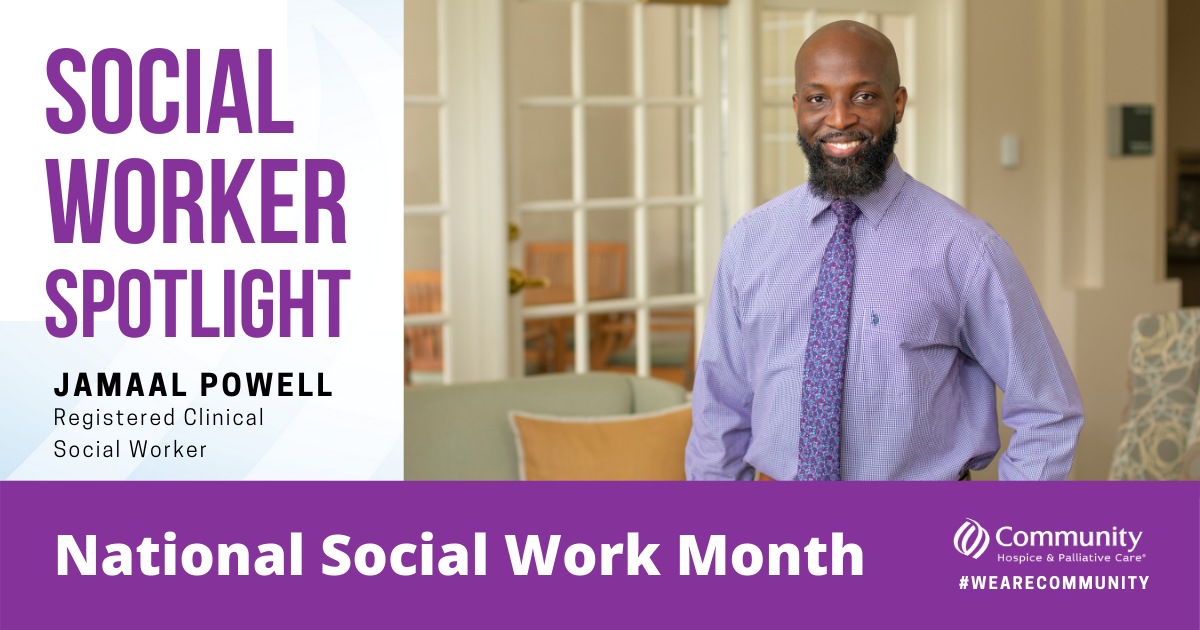 For National Social Work Month, Community Hospice & Palliative Care is proud to showcase our social workers and highlight their integral role in end-of-life care.
Jamaal Powell, Registered Clinical Social Worker, has been with Community Hospice & Palliative Care for two and a half years. He works at our McGraw Center for Caring, assisting patients and their families navigate their end-of-life journeys.
Jamaal believes social workers play a crucial role in helping individuals take stressful situations that have become a crisis, and break down those problems into smaller, workable tasks that no longer overwhelm or paralyze the individual. Social workers help balance the stresses many patients and families face, freeing them to make informed decisions about care.
During his work at the McGraw Center for Caring, Jamaal has worked through many unique cases where patients and families have had unanswered questions about death and needed guidance on what to do next. Jamaal sees those cases as the purpose behind his work as a social worker – to help families move forward, beyond what was, currently is and work towards what can be.
"I find that a lot of people get stuck and are unable to prepare for what is to come. Some of us live life day-to-day without ever having the conversation about the gap between retirement and death. This gap affects all parts of the family system negatively. If there is no plan in place regarding the care an individual would like to receive when they are unable to work, eat, walk, bath or communicate independently, the road to the end can be quite burdensome."
Jamaal believes in the importance of having advanced directives in place, selecting people you trust to carry out a loved one's final wishes. This includes estate planning that determines how personal belongings will be distributed when they are left behind.
Jamaal believes that Community Hospice empowers him to perform his job well, providing him with the resources he needs to help guide families and patients as they prepare for end of life while preserving their autonomy.
Thank you Jammal, for being a compassionate, end-of-life guide.