Jacksonville Vietnam veteran with cancer receives helping hand from community
A 69-year-old Jacksonville Vietnam veteran fought for our country and is now fighting a battle of his own.
By Kamrel Eppinger, Anchor/reporter, First Coast News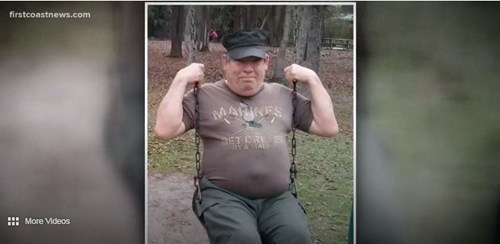 JACKSONVILLE, Fla. — Like thousands of men of his generation, Gunnery Sergeant John Guglielminno did his duty and went off to Vietnam. But that was a long time ago and every day since, he's been living with wounds he got on the other side of the globe.
After a small request from his daughter, local veterans are now helping their brother in arms face his next steps.
Guglielmino is described as a man who never met a stranger. His favorite past time is sharing war stories.

"He gets along with everybody," Guglielmino's daughter, Katherine Boccanelli said. "If he meets somebody in the store with a Semper Fi T-shirt on he'll stop and talk to them for an hour."
He is also described as a decorated veteran, having served 17 years in the United States Marine Corps and multiple tours in Vietnam. Guglielmino fought for our country and sadly, he is now fighting a battle of his own.

"We were really hoping for a good prognosis and recovery and he's on a vent, but at this point, his condition is depleting...," Boccanelli said.

Guglielmino lost most of his lungs to cancer from Agent Orange. He also suffered a stroke on Easter and has been hospitalized ever since at Curahealth Jacksonville. Boccanelli said he's been her life-long hero.

"He's always been the one that's there for everything -- bad dreams as a kid, school plays, weddings, graduation buying a car and buying a house," Boccanelli said.

To return the favor, she took to social media and requested visits from local veterans. Guglielmino is scheduled to enroll in hospice care this week.
Boccanelli said with time winding down and no family members nearby, she wanted to make her dad feel special and ensure that he's not forgotten. The response has been overwhelming.
"There are complete and total strangers that have found time in their day to come and talk to my dad and shake his hand and give him a salute and he lights up when he hears 'Hey Gunny Semper Fi,'" she said. 
She added that she's grateful for the outpouring of support which has given her strength and hope during this difficult time
"It means a lot to be able to give him that," she said.
After Tuesday, Bocanelli said she'd like to have some private time with her dad before hospice takes over. If you're interested in paying her father a visit she asks that you reach out to her on facebook first. She's also asking for the veteran community to come out and pay their respects when the time comes for funeral services.