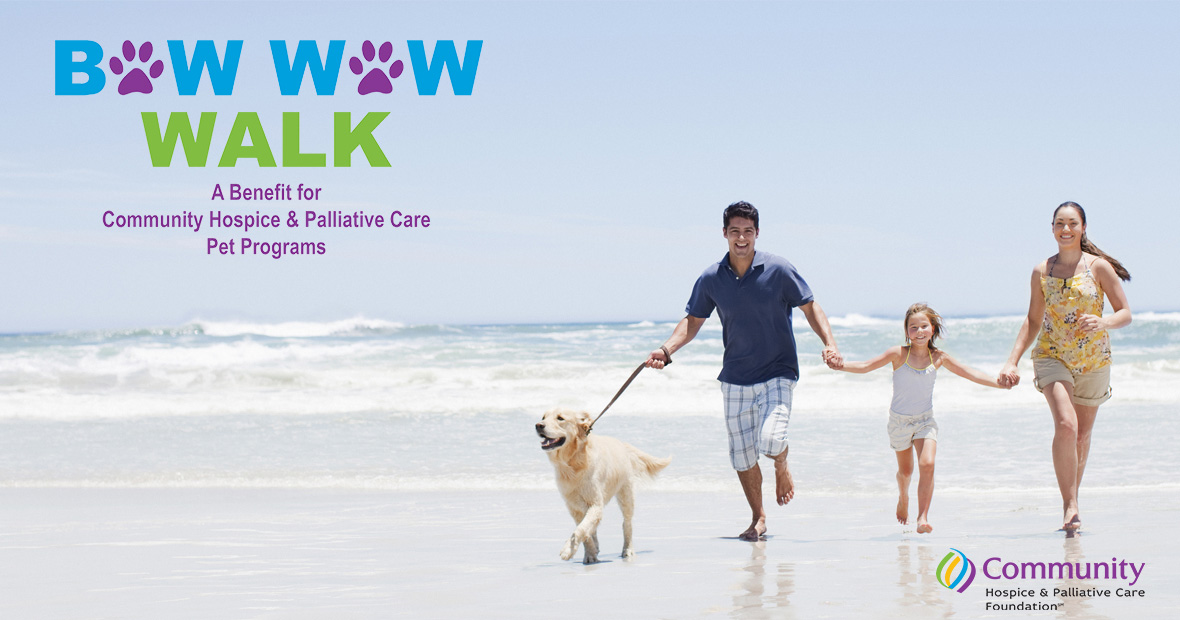 Join the Inaugural Bow Wow Walk 2021 Fundraiser, a Benefit for Community Hospice & Palliative Care Pet Programs, presented by pet paradise
February 16, 2021 (Jacksonville, Fla.) - Community Hospice & Palliative Care is hosting the inaugural Bow Wow Walk 2021, presented by Pet Paradise. This month-long walk, marathon challenge is a benefit for the Community Hospice & Palliative Care pet programs.
With the goal of helping patients with advanced illness keep their pets at home, the pet assistance program can help with nearly all the responsibilities of pet ownership. Specially trained volunteers visit patients at home to provide care for their pet, including feeding, dog walking, and litter box changing. Volunteers deliver complimentary pet food and supplies, arrange transportation for pets to and from veterinary and grooming appointments, and provide prescription medications and flea, tick and, heartworm treatments as the need is identified. Because of this program, elderly hospice patients can continue to enjoy the companionship of the animals they love, and who love them back, without worry.
"At Pet Paradise, we know how special pets are and they play an integral part of our families," said Pet Paradise President and CEO Fernando Acosta-Rua. "We are honored to support this fundraiser that provides much-needed assistance to Community Hospice & Palliative Care patients and gives companion pets the care they need while allowing them to stay with their beloved owners."
The Pet Therapy program is one more way Community Hospice & Palliative Care brings comfort and compassion to patients and families. Pet therapy teams visit patients at Community Hospice Centers for Caring – or wherever they call home. This program benefits to patients by reducing stress, increasing sensory stimulation and relief from pain. Studies have shown that pets can be physically and mentally beneficial for people of all ages.
Kickoff is "Love Your Pet Day" on Feb. 20, 2021, and ends on Mar. 20, 2021. Take part in supporting these unfunded programs while exercising and getting outdoors. How can you help? Paw-ticipate as an individual or team and share the news. Get your family, friends, and neighbors to pledge support for your walk and the programs. Throughout the month-long challenge, awards will be announced including "Participant that Walked the Most", "Best Furry Companion Photo", "Team that Raised the Most Money" and many more.
For more information or to get registered visit BowWow.CommunityHospice.com  or call 904.886.3883.
About Community Hospice & Palliative Care
Established in 1979, Community Hospice & Palliative Care is an innovative national leader in palliative and hospice care, as well as providing programs and services to meet the diverse needs of the communities it serves. During its 42-year history, through the support of more than 1,000 employees and 1,000 volunteers, the organization helps approximately 1,600 patients per day to live better with advanced illness – at home, in long-term care and assisted living facilities, in hospitals and at its 10 inpatient care centers. No one is ever denied care due to an inability to pay. To learn more about the support and services of Community Hospice & Palliative Care, visit CommunityHospice.com
About Community Hospice & Palliative Care Foundation
The Community Hospice & Palliative Care Foundation is dedicated to advancing philanthropy to enable Community Hospice & Palliative Care to fulfill its mission of being the compassionate guide for end-of-life care in the communities we serve. Funds raised by the Foundation through memorial giving, planned and major gifts, and events support unfunded patient care services and community benefit programs for those facing advanced illness and grief. To learn more about how you can support the Foundation visit Support.CommunityHospice.com
About Pet Paradise
Headquartered in Jacksonville, FL, Pet Paradise's full-service pet care destination is dedicated to delivering all the care your dog or cat needs at every age and stage, so you can help them live their longest, happiest, healthiest life. Located in nine states with more than 50 locations in operation or under development, Pet Paradise continues to expand in the United States. For more information about Pet Paradise visit petparadise.com or visit our social media sites: Facebook, Instagram, Twitter, and YouTube.