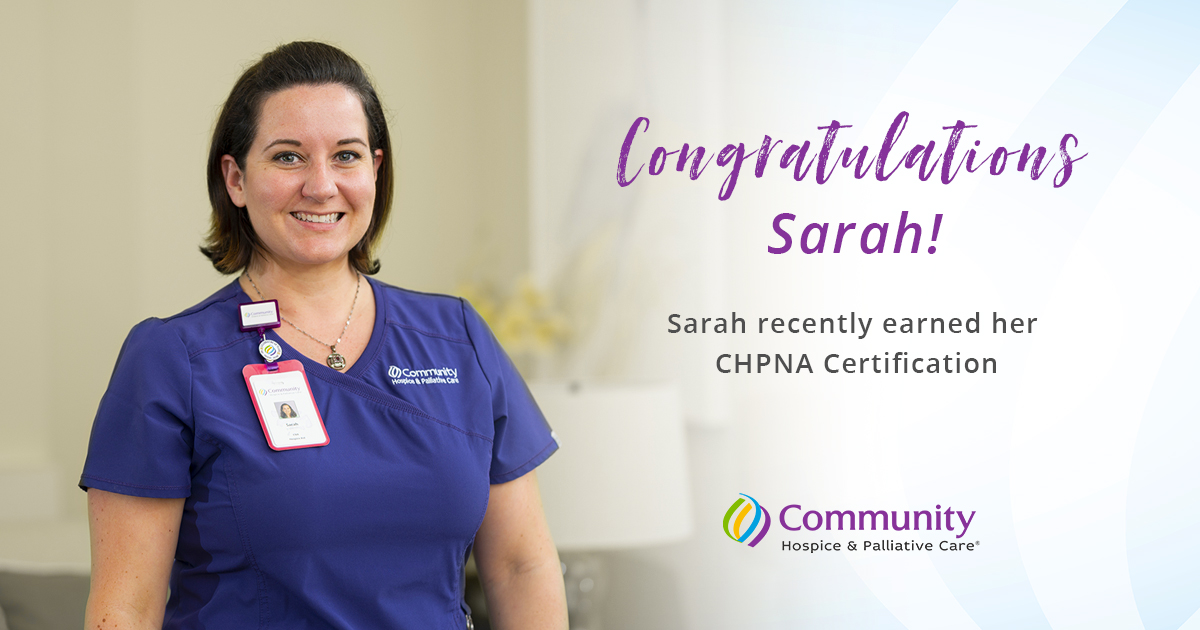 Join us in congratulating Sarah Peterson, Hospice Aide at the Hadlow Center for Caring for earning her Certified Hospice & Palliative Nursing Assistant certification!
The Certification gives experienced hospice and palliative nursing assistants the specialized skills to aid patients at end-of-life.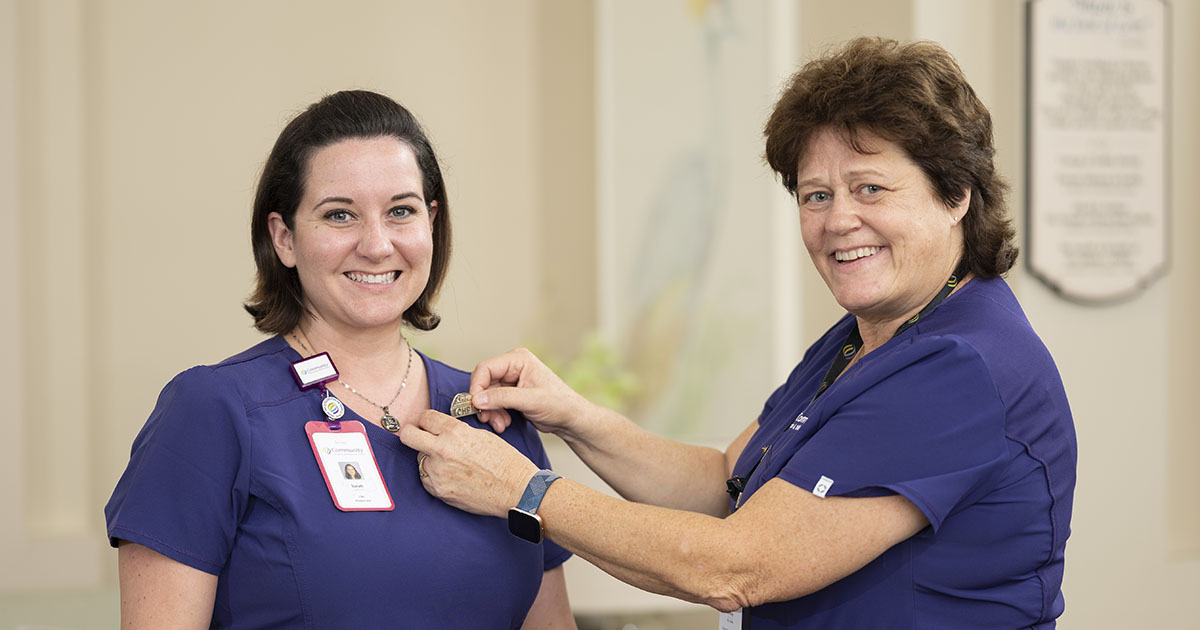 We asked Sarah to tell us a little more about her journey in hospice care.
Tell us a little bit about your story, how long have you been working at Community Hospice & Palliative Care?
My name is Sarah Peterson, and I have been an Aide with Community Hospice since March, 2019. I served on the Clay Long Term Care Team for almost 2 years before transferring to Hadlow (Inpatient) in January of this year.
What led you to pursue a career in the medical field. Specifically, what motivated you to work in hospice and as a hospice aide?
While in college, I worked as an unlicensed resident aide in an assisted living facility. I loved how providing care to others sent me home with a big smile in my heart. After earning my bachelor's degree, I attempted many jobs in my field of study, but nothing made my heart smile the way caregiving had. So, with much prayer, I decided to follow my heart's call and become a CNA.
What attracted you to Community Hospice & Palliative Care?
Since becoming a CNA, I felt that end-of-life care was where I belonged. My dad was taken by brain cancer when I was in high school. Dealing with his death so young and seeing first-hand that there is such a thing as a "good death" gave me a rare and valuable perspective on the otherwise uncomfortable issue. Community Hospice CIC cared for him in the end. I remember seeing the purple uniform and thinking that person was an actual angel. I cried the first time I saw myself in the mirror wearing that same uniform almost 15 years later.
What where some of your reasons for becoming a Certified Hospice and Palliative Nursing Assistant?
I want to be the best caregiver I can be for my patients and their families. The information learned in the CHPNA course was invaluable for the work we do every day. Why would we NOT want to obtain as much information to help us as possible?
How do you believe your certification will help you better serve patients and their families?
In my opinion, the prep course provided by our Professional Development team offered information which will undeniably help us provide better service to our patients and families. The certification is for personal satisfaction and growth through achievement. I worked hard and earned it on my own. It is mine. I believe that when we are proud of the work that we do and have something tangible to show for it, we hold our heads a bit higher. We walk and talk with purpose. We conduct ourselves in a more refined and professional manner. In the end, we provide a more positive experience for our patients and their loved ones in the hardest times of their lives. That's huge.
Congratulations, Sarah and thank you for treating your patients with the highest level of compassion.