JACKSONVILLE—Many longtime Jacksonville residents may remember Donovin Darius as a fierce tackler and defensive force with the Jacksonville Jaguars. From 1998 to 2006, No. 20 helped the big cats find gridiron glory in the early years of the city's NFL franchise.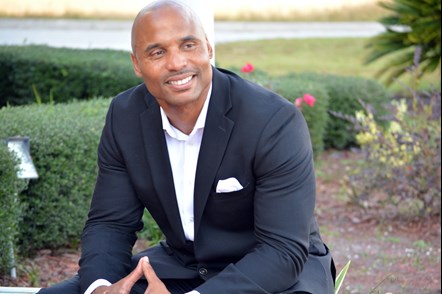 Former Jacksonville Jaguar Donovin Darius is the keynote speaker at the 2018 Caregiver Expo, hosted by Community Hospice & Palliative Care's Caregiver Coalition of Northeast Florida.
Today, Darius is still a force for good, as a corporate and motivational speaker, life coach, author, and a caregiver to his mother. Hear his uplifting story of faith, family, football and helping others as the featured keynote at Caregiver Expo 2018, Saturday, April 14 at EverBank Field's US Assure Club East in downtown Jacksonville.
The free event, now in its seventh year, is a day of pampering, learning and fun for all area caregivers. It includes more than 100 community exhibitors offering information, prizes and valuable services, no-cost health screenings and personal care services such as hair care and massage, complimentary on-site respite care on request, and plenty of inspiration from Darius.
The event is hosted by the Caregiver Coalition of Northeast Florida, a program of Community Hospice & Palliative Care, and is presented by AARP®. Doors will be open from 9 a.m. to 3 p.m. at EverBank Field, 1 EverBank Field Drive. Parking is free and available in lots C and D, and food will be available for purchase on-site. There is no cost to attend.
For more information and to register, visit http://caregiverexpo18.eventbrite.com. To learn more about sponsorship and exhibitor opportunities, please contact Toula Wootan at Community Hospice & Palliative Care at (904) 407-6211. 
# # #
About Community Hospice & Palliative Care
Established in 1979, Community Hospice & Palliative Care is an innovative national leader in palliative and hospice care, as well as providing programs and services to meet the diverse needs of the communities it serves. During its 39-year history, Community Hospice & Palliative Care has served nearly 200,000 adults and children in Baker, Clay, Duval, Nassau and St. Johns counties, and recently expanded its service area to include 11 counties in north-central Florida. Through the support of more than 900 employees and 1,000 volunteers, the organization helps approximately 1,600 patients per day to live better with advanced illness – at home, in long-term care and assisted living facilities, in hospitals and at its eight inpatient care centers. The organization is committed to improving the quality of life for patients and their families and to be the compassionate guide for end-of-life care in our communities. No one is ever denied care due to an inability to pay. To learn more about the support and services of Community Hospice & Palliative Care, visit CommunityHospice.com.
About the Caregiver Coalition of Northeast Florida
Established in 2008 by Community Hospice of Northeast Florida, the Caregiver Coalition of Northeast Florida is an alliance of health care, civic and social service organizations that promotes awareness and knowledge of, sensitivity to and support for family caregiving in Northeast Florida. Coalition partners host activities to benefit caregivers and those in their care.