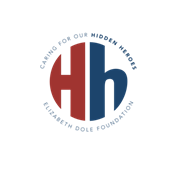 Elizabeth Dole Foundation Awards Grant to Community Hospice & Palliative Care
Grants to National and Regional Organizations Support Military and Veteran Caregiver Programs
Washington, D.C.  – Local Jacksonville nonprofit, Community Hospice & Palliative Care (CHPC), was awarded a grant from the Elizabeth Dole Foundation's Hidden Heroes Fund today, in support of its efforts to impact the lives of military and veteran caregivers through its upcoming "Caring for the Veteran's Caregiver Conference." CHPC is among thirteen organizations nationwide receiving funding for innovative and evidence-based programs that address the long-term needs of military caregivers, the spouses, parents, and loved ones caring for wounded, ill or injured service members and veterans at home.
"Through the Hidden Heroes Fund, the Elizabeth Dole Foundation continues to build a strong, nationwide network of support for America's military caregivers," announced Senator Elizabeth Dole, president of the Elizabeth Dole Foundation. "This year's recipients are some of the most respected organizations working on behalf of the veterans' community and caregivers, and together, they will help ensure our nation supports our hidden heroes for years to come."
CHPC  established the Caregiver Coalition of Northeast Florida in 2008 as the go-to resource for First Coast residents seeking to take better care of themselves while caring for a chronically ill, disabled or aging loved one. The grant will support the Caregiver Coalition's annual "Caring for the Veteran's Caregiver Conference", where caregiving experts will discuss a wide range of topics, including Vietnam veterans' end-of-life stories, the journey of the military caregiver, and the challenges of daily caregiving. Community caregivers in attendance will learn about the various support services provided by the Caregiver Coalition of Northeast Florida's member agencies, who represent a diverse array of experience and expertise, and will also receive professional assistance with accessing VA benefits or pensions, applying for disability or the GI Bill, other earned benefits and available community resources for caregivers and care recipients.
"Community Hospice & Palliative Care is grateful to be the recipient of a 2018 Hidden Heroes Fund award from the Elizabeth Dole Foundation," said Susan Ponder-Stansel, President & CEO. "We are pleased to partner with the Foundation to present the Caregiver Coalition's Caring for the Veterans Caregiver conference to Northeast Florida's caregivers of military veterans this September. Together, we will provide critical education and access to services that will improve quality of life for our community's veterans and those who care for them."
For a full and detailed list of Elizabeth Dole Foundation's 2018 Hidden Heroes Fund Grant recipients, click here. If you are interested in interviewing Elizabeth Dole Foundation leadership or grant recipients, please contact Katie Haswell at KHaswell@susandavis.com or 202-414-0799.
About Elizabeth Dole Foundation
The Elizabeth Dole Foundation is the preeminent organization empowering, supporting, and honoring our nation's 5.5 million military caregivers – the spouses, parents, family members, and friends who care for America's wounded, ill or injured veterans at home. Founded by Senator Elizabeth Dole in 2012, the Foundation adopts a comprehensive approach in its support and advocacy, working with leaders in the public, private, nonprofit, and faith communities to recognize military caregivers' service and promote their well-being. Learn more about the Elizabeth Dole Foundation at www.elizabethdolefoundation.org.
The Hidden Heroes Campaign, an initiative of the Elizabeth Dole Foundation, brings vital attention to the untold stories of military caregivers and provides a safe, secure place where caregivers can meet and access carefully vetted resources at HiddenHeroes.org. Another aspect of the Campaign, Hidden Heroes Cities, is an effort to galvanize local leaders across America to identify military caregivers in their communities and the local resources to support them. To date more than 114 cities from San Antonio to New York, from Washington, DC to San Diego have signed on. Learn more about Hidden Heroes at www.hiddenheroes.org.
Established in 1979, Community Hospice & Palliative Care ("CHPC") is the first and only community-based nonprofit hospice and palliative care provider serving Baker, Clay, Duval, Nassau and St. Johns Counties in Northeast Florida. In 2017, the organization started serving 11 additional counties in North Central Florida: Alachua, Bradford, Columbia, Dixie, Gilchrist, Hamilton, Lafayette, Levy, Putnam, Suwanee and Union Counties. Each year, through the hard work of over 950 employees and the support of over 1,000 volunteers, the organization helps more than 14,000 patients and their families to live better with advanced illness. During its 39 years in operation, CHPC has served over 200,000 adults and children in their home, in long-term care and assisted living facilities, in hospitals and at its eight inpatient care centers conveniently located throughout the area. www.communityhospice.com
###