Jacksonville, FL (October 24, 2018) – This month, hundreds of healthcare thought leaders met at the 5th Annual Coalition to Transform Advanced Care (C-TAC) National Summit on Advanced Illness Care. The Summit is an integral part of a movement centered on value- and patient-focused care for people with advanced illness. Policy makers, consumer advocates, academics and other experts gather for transformative discussions on policy, advocacy, caregiving, technology and more.
Topics at this year's three-day Summit included:
Placing Value on Community Collaborations
Partnering with Faith Communities to Support Caregivers
Supporting Urban and Rural Communities: Two Approaches
What Pediatric Palliative Care Can Teach Us About Coalitions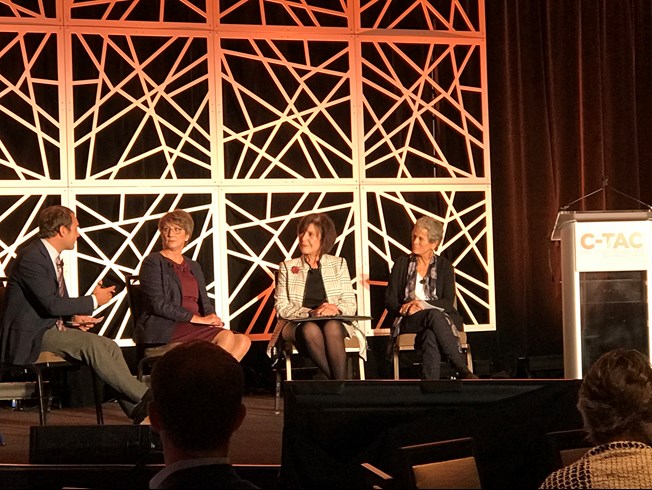 Community Hospice & Palliative Care CEO Susan Ponder-Stansel spoke to conference guests about the innovative Care Choices program.
Community Hospice & Palliative Care President and CEO Susan Ponder-Stansel addressed the group at one of the Summit's plenary sessions to offer critical perspectives on "Lessons Learned from Alternative Payment Models." Ponder-Stansel discussed the Care Choices model's unique delivery of patient care for those at the end of life.
"I am excited to share Community Hospice's experiences with the Center for Medicare and Medicaid Innovation's Care Choices model," Ponder-Stansel said. "Care Choices allows patients to receive hospice care while they are also being treated for their advanced illness. Community Hospice was one of only 70 hospice programs in the country selected to be part of the five-year pilot program, which is now in its third year." 
For more information about Community Hospice's Community Care Choices program, please visit https://www.communityhospice.com/services/community-care-choices/.