Fernandina Beach, FL (Oct. 3, 2018) – A year in the making, Community Hospice & Palliative Care opened its new office adjacent to the Council on Aging in Nassau County on Tuesday, October 2. This new office was originally set to open last year, but Hurricane Irma caused extensive damage to the location. The ribbon cutting included a reception, followed by a brief ceremony and VIP guest ribbon cutting led by the President and CEO of Community Hospice & Palliative Care Susan Ponder-Stansel.
Community Hospice has proudly served the people of Nassau since the nonprofit's inception nearly 40 years ago in 1979. In 2014, the Jane and Bill Warner Hospice Center for Caring opened on the Baptist Medical Center Nassau campus to provide around-the-clock care for patients and respite care for families.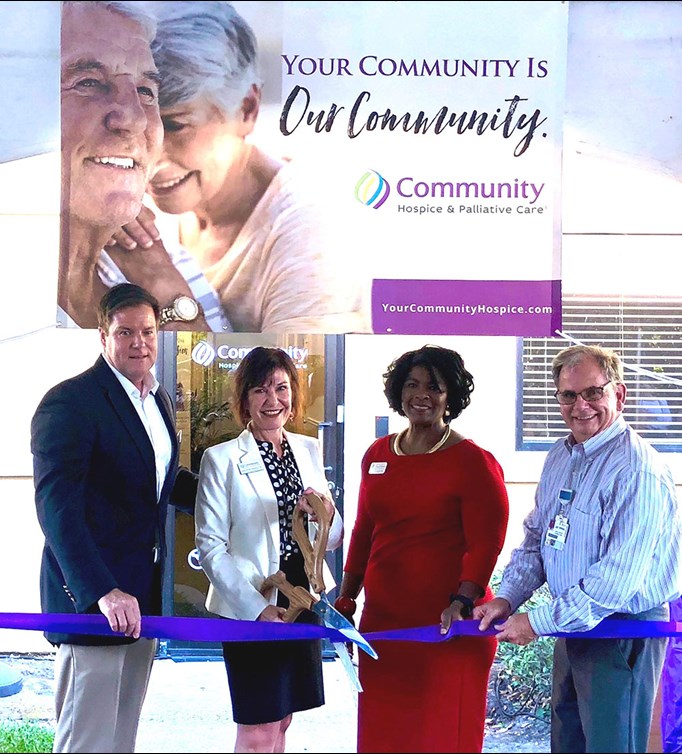 Shown l-r: Senator Aaron Bean (R), President and CEO of Community Hospice & Palliative Care Susan Ponder-Stansel, President and CEO of the Nassau County Council on Aging Janice Ancrum and Lead Chaplain at Baptist Medical Center Nassau Rev. Jim Tippins.
With this opening, the total number of offices throughout the 16-county service area of Community Hospice will grow to six with more opening in the coming months. A temporary office will open soon in Gainesville, while efforts are underway to identify acreage for a new campus to include offices, community space and a thrift shop. 
In early 2019, an official ribbon cutting will be held to open a new office and community center to serve Clay County after outgrowing the previous location. To better serve our community, Community Hospice will also open a new hospice center for caring in Baptist Medical Center, located in downtown Jacksonville. The Stephen R. Chapman Family Community Campus in St. Augustine is scheduled to open in the springtime and will feature offices, community meeting space and an upscale retail store.
Community Hospice is growing to better serve its communities as it enters the 40th year of being the Compassionate Guide® to over 200,000 patients and their families during one of life's most difficult journeys.