Jacksonville, FL (Nov. 30, 2018) – Community Hospice & Palliative Care recently invited renowned subject matter experts to its 8th annual Wound Care Conference at the University of North Florida's Adam W. Herbert University Center. This year's conference theme was "We Have You Covered."
Held on Wednesday, November 14 – World Diabetes Day – more than 100 attendees of the dynamic conference learned the latest advances and best practices for wound prevention, management and treatment from professional educators and industry leaders. Local and national exhibitors were also available at the conference with information and resources for guests.
The presenters and topics were as follows:
Aletha Tippett, M.D., President of the Hope of Healing Foundation – "Palliative Wound Care"
Lynn McPherson, PharmD, MA, MDE, BCPS, CPE, Professor and Executive Director of Advanced Post-Graduate Education in Palliative Care – "Management of Diabetes," "Diabetes Mellitus: What A Pain It Is! Management of Painful Wounds"
Andrew Bartell, DPM, The North Florida Foot & Ankle Center (NFFAC) – "Lower Extremity Diabetic Wound Care"
Attorney James Young, Morgan & Morgan – "Oops, Yikes, Ugh: Documentation & Communication Legalities in Wound Care"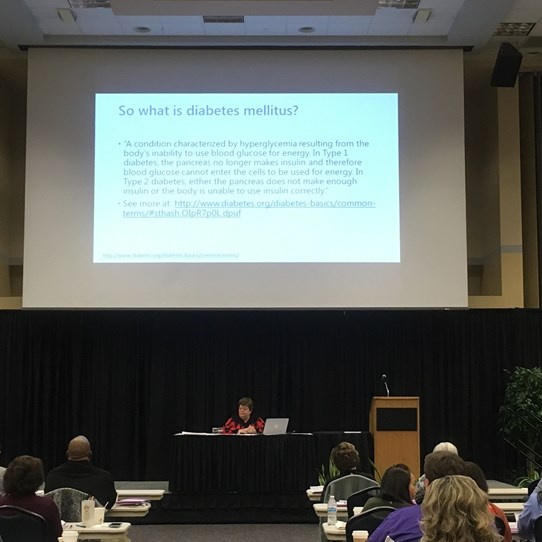 Wound care expert Dr. Lynn McPherson gave two engaging presentations on the management of diabetes and the management of painful wounds.
Continuing education credits were available for eligible nursing staff, nursing home administrators and licensed mental health professionals. Thanks to stellar community partnerships, Integra was the presenting sponsor for the conference; Grove Medical was the conference's community sponsor. 
For more information on Community Hospice's programs and services, please visit CommunityHospice.com.