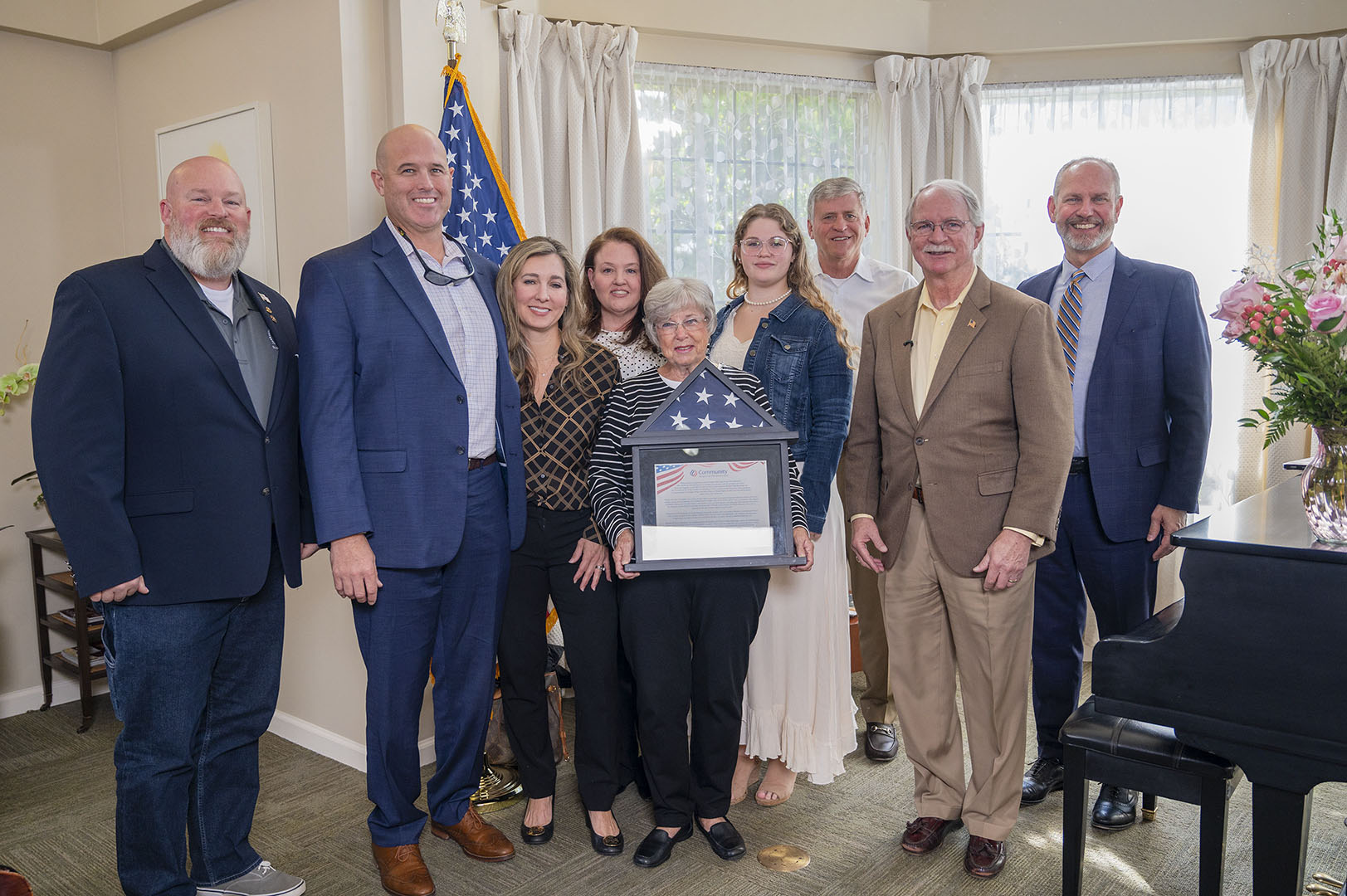 Community Hospice & Palliative Care Honors Steven H. Spickelmier
November 7, 2022 (Jacksonville, Fla.) – Community Hospice & Palliative Care honored the late Steven Spickelmier, a revered veteran advocate and leader, with a $25,000 gift in his name as a designated endowment for the development and delivery of a specialized care program for military veterans.
Steven Spickelmier, who passed away early this year of COVID, was a pillar in the community. He served 26 years in the military with the U.S. Navy and the U.S. Air National Guard. He was a military and veteran advocate and held many roles in various veteran groups including the founder of Community Hospice Veterans Partnership, Chairman of Veterans Council of Duval County, Chairman of Veterans Council of Baker, Clay, Duval, Nassau, and St. Johns, Chairman of Support Committee, Jacksonville National Cemetery, President of Air Force Sergeants Association, and Field Operations Director of Missing in America Project. Steven also was a member of Wreaths Across America, National POW/MIA Memorial Museum, Vets 4 Vets of Northeast Florida, and Vietnam Veterans of America.
U.S. Representative John Rutherford presented the family of Steven H. Spickelmier with the American flag that had been flying over the Capital Building in Steven's honor, on October 19, 2022. Kevin Robbins, Chairman of the Community Hospice & Palliative Care Board of Directors, presented a framed resolution honoring Steven that will help develop the gold standard of care for veterans in need of end-of-life care.
Now in its 42nd year, Community Hospice & Palliative Care is the provider of choice for veterans and their family members, providing care to nearly 2,000 veterans every year across 16 counties. The veteran's program provides specialized, dignified, compassionate care for veteran patients. Physicians, nurses, and social workers are trained to identify the end-of-life needs of veterans and ensure they are honored for their service and sacrifices. They are also trained to recognize and address the emotional, moral, and spiritual pain that can result from combat. Helping them with these visible and invisible wounds of war can be especially important as a veteran nears the end of their life. For more information on Community Hospice & Palliative Care's veterans' program, please visit Veterans.CommunityHospice.com.  
About Community Hospice & Palliative Care
Established in 1979, Community Hospice & Palliative Care is an innovative national leader in palliative and hospice care, as well as providing programs and services to meet the diverse needs of the communities it serves. During its 42-year history, through the support of more than 1,000 employees and 1,000 volunteers, the organization helps approximately 1,600 patients per day to live better with advanced illness – at home, in long-term care and assisted living facilities, in hospitals and at its 10 inpatient care centers. No one is ever denied care due to an inability to pay. To learn more about the support and services of Community Hospice & Palliative Care, visit CommunityHospice.com