Esteemed family doctor recognized by the City Rescue Mission for innovation and compassion in patient care
Jacksonville, FL (Nov. 13, 2018) – Just in time for November's National Hospice & Palliative Care Month, Community Hospice & Palliative Care Chief Medical Director Dr. Ana Sanchez has been honored for her dedicated service with the City Rescue Mission's Difference Maker Award. Since 2011, Dr. Sanchez has been providing compassionate care to the 1,300 patients in the 16 North Florida counties that Community Hospice serves.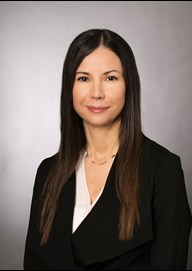 im
Currently managing a 31-person medical team of physicians and advanced registered nurse practitioners (ARNP), Dr. Sanchez makes an impact by adhering to the highest standards of hands-on patient care. She embodies the Community Hospice mission to improve the quality of life for patients and families, and to be the Compassionate Guide® for end-of-life care in our community.
"Dr. Ana Sanchez is a role model, an innovator, and a tireless compassionate guide for our staff, patients and families. She is a Difference Maker whose love of caring for the people of our community isn't bound by time or place. In fact, Dr. Sanchez meets patients and families wherever they are physically and emotionally, helping them understand the value of hospice care at home, in a long-term care facility or in one of our inpatient units," said Mary McElroy, Community Hospice's senior vice president of hospice services. 
After earning her medical degree in the Dominican Republic, Dr. Sanchez completed a family medicine residency through the University of Florida in Jacksonville.
Double-boarded in family medicine and hospice and palliative medicine with more than 15 years of patient care experience, she began her own family medicine practice in Jacksonville, renting out one room in the office of her father's psychiatry practice. 
Home visits and caring for the entire family provide the core of her personal mission to stay true to a traditional family practice. Early in her professional career, she increasingly identified patients who needed hospice care, which attracted her to the specialty. This awareness became a calling that inspired her to shift her care, and career, to hospice and palliative medicine. 
Since its inception in 1979, Community Hospice has served over 200,000 patients and families, and has grown to become the fifth largest non-profit hospice in the United States. Sanchez's leadership and critical expertise have been deeply valuable components in Community Hospice's 40-year legacy of compassionate care. 
For more information about Community Hospice's programs and services, please visit https://www.communityhospice.com/.