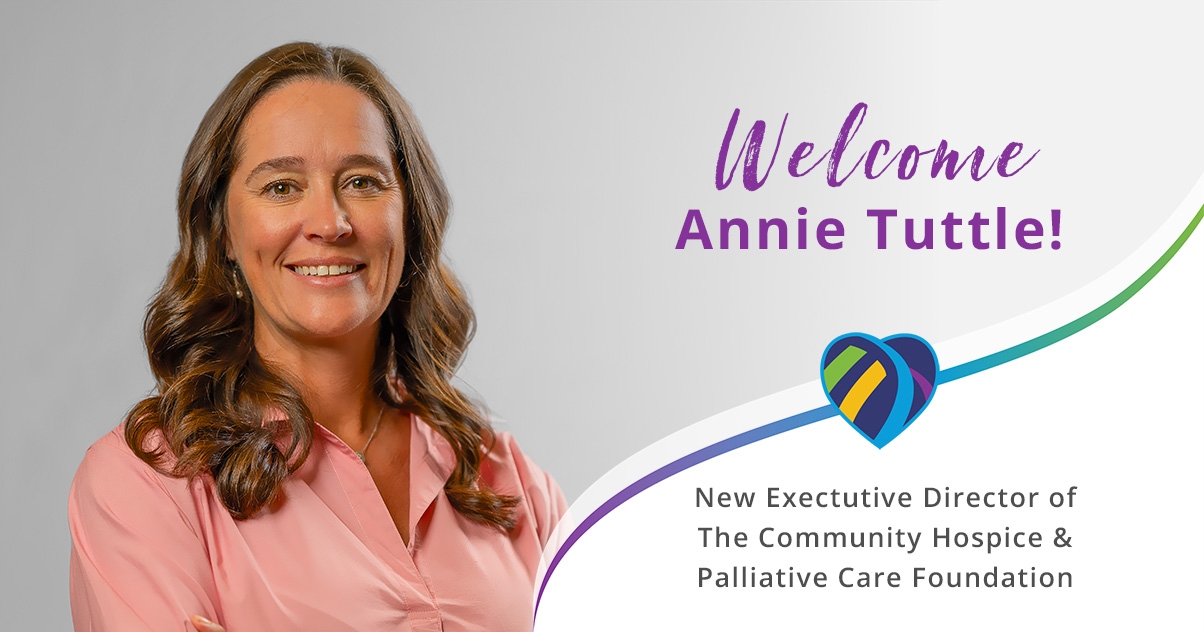 Community Hospice & Palliative Care Announces New Foundation Executive Director
January 23, 2023 (Jacksonville, Fla.) – The Community Hospice & Palliative Care Foundation of Caring welcomes Annie Tuttle as its new Executive Director. Annie, a graduate of the University of North Florida, has been a resident of North Florida for over 35 years. Annie was named Executive Director by Susan Ponder-Stansel, President & CEO of Alivia Care and President of the Community Hospice Foundation. Annie will provide leadership to the Foundation, establish, and maintain relationships with donors, and work closely with the Board of Trustees to support their work on behalf of the Foundation.
"It is such an honor to be serving in this role for an organization that has meant so much to me personally. My mother passed away while in Community Hospice care, and I was so impressed with the amazing nurses and staff that I wanted to give back somehow," said Annie. "After learning about the Community PedsCare program, the pediatric palliative and hospice program of Community Hospice, I volunteered as a committee member for Halloween Doors & More fundraiser, the Holiday Toy Drive, and helped develop several fundraising and awareness opportunities for the Community PedsCare Teen Advisory Board. Now having the opportunity to work for the Foundation for Caring, brings me full circle with this organization and I am excited for the opportunity."
Annie joins the team with a wealth of knowledge having supported various local non-profit organizations including Champions for Hope, The Donna Foundation, Wolfson Children's Hospital, Hugs Across the County, and The Kate Amato Foundation.
"I am pleased to welcome Annie as our new leader in the Foundation," said Susan Ponder-Stansel, President and CEO of Alivia Care, Inc. "Her energy, vision, and deep understanding of our mission will help her guide us in our work to support the care and services provided to our community-by-Community Hospice and Palliative Care and our Community PedsCare Program. "
Community Hospice & Palliative Care Foundation is dedicated to advancing philanthropy to enable Community Hospice & Palliative Care to fulfill its mission and vision. Funds raised through the Foundation enhance the quality of life for patients and families and support unfunded and under-funded patient care, outreach programs, and services for those facing advanced illness and grief. Our donors enable us to continue to provide community programs and compassionate care to all who need it, regardless of the ability to pay.
About Community Hospice & Palliative Care
Established in 1979, Community Hospice & Palliative Care is an innovative national leader in palliative and hospice care, as well as providing programs and services to meet the diverse needs of the communities it serves. During its 42-year history, Community Hospice & Palliative Care has served nearly 220,000 adults and children in Baker, Clay, Duval, Nassau, and St. Johns counties. Through the support of more than 950 employees and 1,000 volunteers, the organization helps approximately 1,500 patients per day to live better with advanced illness – at home, in long-term care and assisted living facilities, in hospitals and at its 10 inpatient care centers. The organization is committed to improving the quality of life for patients and their families and to be the compassionate guide for end-of-life care in our communities. No one is ever denied care due to an inability to pay.
About Community Hospice & Palliative Care Foundation
The Community Hospice & Palliative Care Foundation is dedicated to advancing philanthropy to enable Community Hospice & Palliative Care to fulfill its mission of being the compassionate guide for end-of-life care in the communities we serve. Funds raised by the Foundation through memorial giving, planned and major gifts, and events support unfunded patient care services and community benefit programs for those facing advanced illness and grief. To learn more about how you can support the Foundation visit Support.CommunityHospice.com