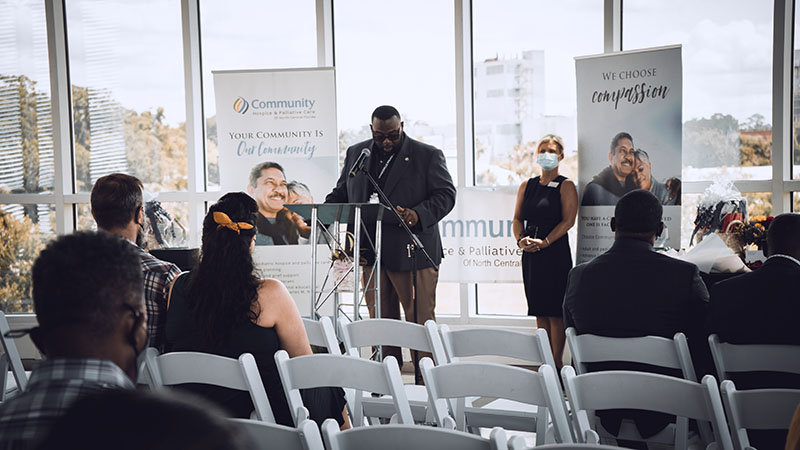 May 24, 2022 (Gainesville, Fla.) - Community Hospice & Palliative Care presented Ms. Rosa Williams and Mr. Jon DeCarmine with the 2nd annual Community Legacy Award yesterday, May 23, at noon at the Cade Museum with many community leaders in attendance.  Ms. Williams was not present at the event, however, Pastor Duncan accepted the award on her behalf.  Immediately after the event Chief Inspector Jamie Kurnick of the Gainesville Police Department delivered the award, flowers, a gift basket, and a boxed meal to Ms. Williams.
The Community Legacy Award honors members of the community who represent a servant's heart through actions of community service, education, and community initiatives. This unique opportunity honors exceptional individuals who have positively led and influenced our community, who have chosen to serve the public and represents a life dedicated to selflessly helping others.
Rosa Williams, 91, a long-time Gainesville community organizer, has been a strong voice for the Gainesville area for most of her life. Rosa has an impressive history, including being the first African American person to obtain a library card in downtown Gainesville. She has been involved in a long list of organizations such as the Gainesville Women for Equal Rights, Vice President of the Gainesville NAACP chapter, Supervisory of Outreach at the Community Action Agency, former Chairwoman of the Democrat Club, and Gainesville's Black on Black Crime Task Force. Ms. Williams has had a long list of involvement in many community programs, including United Gainesville Community Development Center-Porters' Community, Gainesville Commission on the Status of Women, the Gainesville Neighborhood Housing Board, and the Reichert House Youth Academy. In 1995, the Rosa B. Williams Scholarship was created to be given to African American employees of UF Health Shands who seek a degree in health-related programs at Sante Fe College.
Jon DeCarmine leads the amazing team at GRACE, a one-stop assistance center that provides emergency shelter and permanent solutions to homelessness. GRACE has moved more than 2,000 people into permanent housing since opening in 2014, reducing local homelessness by 47 percent and unsheltered homelessness by 69 percent. He oversees emergency and permanent housing programs, strategic planning, and visioning. Jon began working on homeless assistance projects as a volunteer with Food Not Bombs in 1996 and has been an advocate for people without housing for the past 25 years. Jon has led trainings, workshops, and panel discussions on homelessness for the National Alliance to End Homelessness, the U.S. Dept. of Health and Human Services, the Florida Association of Counties, the Florida Coalition for the Homeless, the Florida Supportive Housing Coalition, and the Canadian Shelter Transformation Network.
"Community Hospice is committed to serving our community and those who need us. We recognize servant leaders in our community. This award is to honor strength and compassion in the communities we serve," said Billie Adkins, North Central Florida Regional Director.
About Community Hospice & Palliative Care
Established in 1979, Community Hospice & Palliative Care is an innovative national leader in palliative and hospice care, as well as providing programs and services to meet the diverse needs of the communities it serves. During its 42-year history, through the support of more than 1,000 employees and 1,000 volunteers, the organization helps approximately 1,600 patients per day to live better with advanced illness – at home, in long-term care and assisted living facilities, in hospitals and at its 10 inpatient care centers. No one is ever denied care due to an inability to pay. To learn more about the support and services of Community Hospice & Palliative Care, visit CommunityHospice.com