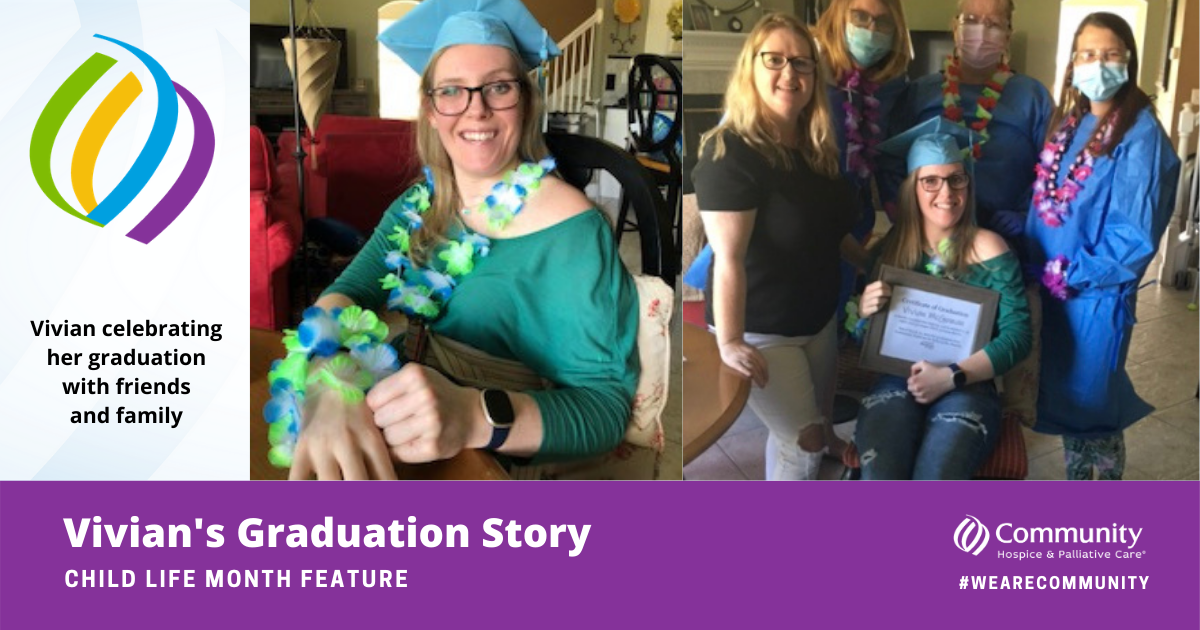 March Child Life Month Feature
Vivian, who just turned 21 this month, is now a proud graduate after overcoming a traumatic vehicle accident. We're celebrating Vivian's strength in celebration of Child Life Month.
Danielle Eaves, one of the Community PedsCare Child Life Specialist who supported Vivian during her recovery, helped facilitate an "Aloha" themed graduation party for her. Five years ago, Vivian suffered a traumatic brain injury from a vehicle accident which forced her to relearn how to speak, eat and walk. However, that didn't stop Vivian from moving forward.
At Community PedsCare, Danielle supported Vivian through many helpful skills like activity modification, outlets for self-expression, and self-esteem. During their time together, Danielle also facilitated therapeutic art activities including motivational quotes and learning the Japanese art of Kintsugi – which is the art of repairing broken pottery with precious metals. As Vivian and Danielle reviewed the beauty in the broken pottery, Danielle helped Vivian remember how she has overcome many challenges following her accident with fierce determination.
Vivian received a diploma with all the pomp and circumstance of a cap and gown, including lunch with her interdisciplinary team. Vivian's family expressed their sincere appreciation for the support the Community PedsCare program provided in with the celebration.
We are so proud of Vivian and are honored to have cared for her!