This unique place will further our commitment to the health and well-being of St. Augustine and St. Johns County residents by offering health services and ensuring residents are prepared to face the challenges of aging and advanced illness.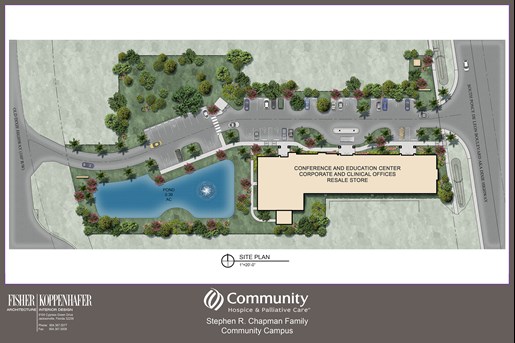 The community campus will join our Bailey Family Center for Caring on the Flagler Hospital campus as a visible sign of our commitment to St. Augustine and St. Johns County.
A Conference and Education Center featuring four flexible conference rooms with 2,122 square feet of meeting space
Corporate and Clinical Offices for our St. Augustine-based care teams, featuring private offices and workstations with space for grief and bereavement counseling and workshops
A Resale Store with a large sales floor and donation drop-off area
Campus programs will include: 
Advanced care services and advance care planning
Grief and bereavement counseling and workshops
Learning opportunities for caregivers, veterans and volunteers
Continuing medical education for clinicians
Community meeting space and events open to local residents and organizations
Philanthropic support will be vital to establish this community resource. Overall project costs are anticipated to be $3 million with a campaign goal of at least $1.5 million. Support of this project is a commitment to the community and this new local resource, which will serve the needs of area residents for years to come.
To learn more about how you can support our new community campus, please contact Donna Morrow, director of development, at dmorrow@communityhospice.com or 904.407.6136.