The Cover Me In Sunshine art quilt exhibit was created for Community Hospice & Palliative Care by the Studio Art Quilt Associates (SAQA) North Florida Group. The sun theme was selected because of the universal symbol of light and love.
The exhibit is being displayed at locations throughout our 16-county service area. These beautiful quilts will be available for bidding from February 11, 2022, at 12 p.m. until February 28, 2022, at 12 p.m. All proceeds benefit the Creative HeARTS program Memory Pillow Project. Memory Pillows are special keepsakes created by Community Hospice volunteers for families of patients in our care. Made from an article of clothing owned by the patient, this complimentary pillow is a one-of-a-kind treasure and loving memento.
"Our hope is that people can take a few moments to view and enjoy the exhibit. We are delighted that these art quilts will help raise funds to support Creative HeARTS program."
-Lisa Hamilton, SAQA North Florida Group
Thank you to our wonderful quilting volunteers: Erica Dodge, Christina Flores, Lisa Hamilton, Lauree Hemke, Karen Kimmel, Jan Lipsky, Saundra Overstake, Linda Sabin, and Becky Stack.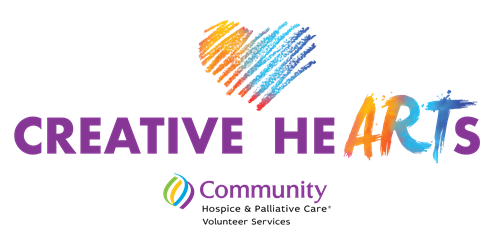 Creative HeARTS is a comprehensive program designed to enhance the lives of our patients, families, and community through multiple forms of art. The many activities executed under the Creative HeARTS program are delivered by our Community Hospice & Palliative Care volunteer network and community partner volunteers. If you have a talent or love of the arts and would like to give back in this meaningful way, please contact Betsy Miller at emiller1@communityhospice.com.