Event details
Saturday, October 21, 2017
2 to 7 p.m.
Jacksonville Fairgrounds Exhibition Hall
510 Fairgrounds Place, Jacksonville, FL 32202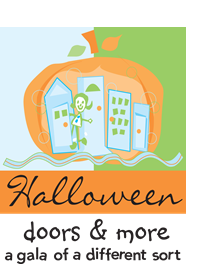 Beginning in 2005, this annual event raises funds for Community PedsCare, Community Hospice's pediatric palliative and hospice care program while delivering a memorable experience for First Coast families. Held every October at the Jacksonville Fairgrounds Exhibition Hall, Halloween Doors & More is a gala of a different sort. The event is fun and festive, not scary or spooky. Children trick-or-treat for toys at 14-feet-high fantasy "doors."
Community PedsCare patients and families have the opportunity to enjoy activities and entertainment where accommodations are made for their conditions without hampering their fun. For many parents, watching their children work their way through the doors is sheer delight. The broad smiles on their faces say it all. Many Community PedsCare children are so enthralled by the experience they don't want to leave. One mother commented, "My child smiled more in one evening than she has the entire year."
Since its inception, Halloween Doors & More has raised $4.2 million for Community PedsCare.
See below to find out how you can get involved in this wonderful event and make a real difference in the lives of our extraordinary kids.
PURCHASE ADMISSION/SPONSORSHIP
 REGISTER FOR MONSTER MASH DASH