Dying, Death and Grief Phenomena: A Webinar from the Hospice Foundation of America
Charles M. Neviaser Educational Institute of Community Hospice & Palliative Care, Nicholas Davis Duke Auditorium; 4266 Sunbeam Road, Building 100, Jacksonville, FL 32257
May 15 @ 11:30 AM - 1:30 PM
Health care professionals and family members often report witnessing unusual or unexpected responses when a person is nearing death. The Hospice Foundation of America (HFA) webinar, presented by the Charles M. Neviaser Educational Institute of Community Hospice & Palliative Care, will explore phenomena around the dying process such as terminal lucidity, near-death experiences, nearing-death awareness, and other end-of-life phenomena, and how clinicians can handle such experiences.
The expert presenter for this webinar will be Kenneth J. Doka, PhD, MDiv, senior bereavement consultant to HFA and professor of gerontology at the Graduate School of The College of New Rochelle. The Rev. Paul A. Metzler, DMin, a clergy member, therapist and grief counselor for more than four decades, will serve as the moderator. 
Tuesday, May 15, 2018
11:30 a.m. Registration
Noon to 1:30 p.m. Webinar
There is no cost to register. RSVP at bit.ly/griefwebinar.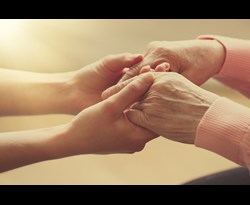 Continuing Education
1.5 continuing education credits (CEUs) will be available for eligible professionals through the Hospice Foundation of America. A nominal fee will apply. A list of board approvals is at HospiceFoundation.org.
At the conclusion of this webinar, participants will be able to:
Describe phenomena around death and dying including terminal lucidity, near death experiences, nearing death experiences, premonitions of death, transpersonal end-of-life experiences, and post-bereavement experiences.
Consider the ways that phenomena may influence grief and loss.
Discuss ways that counselors and nurses should deal with such phenomena.